By Bikers For Bikers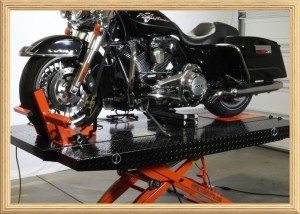 We utilize the Titan 1000D XLT motorcycle table lift here at Law Abiding Biker!™ Podcast & Media to use in the garage/shop where we film all our free videos on our very popular YouTube Channel & our useful for purchase videos. We are an authorized distributor for Titan Lifts. We can help hook you up with an array of Titan motorcycle lifts, jacks, wheel chocks, & accessories.
We are an authorized Titan Lift Distributor, so visit our store.

We can assist you with any Titan product you may be interested in.
You will see the Titan SMDL-1000D listed as "starting at $899" at some places, which is true. However it does not come with any extras at all. We strongly suggest you get the accessories upon original order, as it will not cost you any extra in shipping. If you later decide you need those items, which you likely will, you will have to pay hundreds in shipping costs again! Many bikers have made this mistake and almost everyone calls back within weeks to order the additional accessories.
We encourage you to go with the Titan SDML-1000D-XLT lift, which is the basic Titan SMDL-1000D lift, but has many very useful accessories included, which prices for around $1,189. Extras accessories include:
Side Extensions ($199.50)

We cannot tell you how important these are for loading the bike on the lift, so you have a place for your feet on both sides. You can ride your bike right onto the lift. Without them that would not be possible.
The extra working space is invaluable for tools, parts, equipment etc.
You can also not put your lawn tractor, ATV, or other equipment onto the lift to work on, which increased the functionality

Stabilizer bar ($90 value)

Needed to stabilize the lift with side extensions installed.
Really makes the whole lift more solid and stable when working on bikes. Would make it almost impossible to tip even with people sitting on the sides etc.
Titan 1,000 LB Motorcycle Mini Jack:
We also suggest purchasing a Titan 1,000 LB Motorcycle Mini Jack at the same time, which is around$134.95 with either the Titan SMDL-1000D or the Titan SDML-1000D-XLT package.  Again, it will not cost you any extra if you ship at the same time as the main package. Without the mini jack you can't use the rear wheel drop or roller drop out panels to remove wheels etc. A lift is supposed to make working on you bike easier and without the mini jack you are limiting yourself.
Listen in. You will learn a ton from Ian Gilmore who has much experience in the industry!
Titan 1000D Lift Table Tutorial, Review, & Informational Video!
The market is saturated with motorcycle lift tables, jacks, & companies. It can be overwhelming when you start shopping for a lift. The last thing we want is for a biker/motorcyclist to spend their hard-earned money on a motorcycle lift table or jack only to get ripped off or treated badly by a company that doesn't care about them.
Customer service is super important to us here at Law Abiding Biker™. That is why we want a team member to talk to you personally when ordering and deciding to invest in a lift table. Many lift distributors know very little about their products and are just a part-time distributor of sorts, so be careful. We care so much about you that if we did not have an answer or could not help you for some reason, we would refer you to other trusted and knowledgeable distributors in the industry. We are here to help bikers/motorcyclists.
Some time ago I spoke with Ian Gilmore, who is an expert in the industry, via a phone call. That conversation was recorded as an interview on Law Abiding Biker™ Podcast Episode #67.  That conversation is very informational and you will learn everything you need to know and be aware of when shopping for and purchasing a motorcycle lift table.
These lifts also come standard with two drop out rear panels. One full rear drop out panel and one roller panel for rolling the back wheel while on the lift for maintenance purposes. The lifts also come with an extra long stretched out drive up panel for a smoother experience driving up onto and backing off the lift. Or for stretched out bikes and lowered bikes it comes in handy. The lift is easy to move around the garage or shop with the included dolly handle.
The lifts also come standard with a front wheel vise or clamp and it is very solid. It is lined with rubber to protect the front wheel from damage. There are also two eye bolts placed in the front of the lift to strap the motorcycle to with ratchet straps (not included). We strongly suggest securing your motorcycle with both the front wheel vise and ratchet straps for safety purposes.
The lifts both come with a Multi-Positional Front Table Extension, which is nice for longer or stretched out motorcycles.
The lifts come in gloss black & grey or gloss black & orange. The entire Titan SDML-1000D-XLT package weighs about 750 lbs. Shipping details and delivery can vary depending on whether you are delivering to a residential location or a business location with access to a fork lift. If you need a lift gate then there can be additional fees. All these things are set up and explained at the time of purchase, which is another reason we want you to have personal contact with a team member here at Law Abiding Biker™ (509) 731-3548.  We go over many of these items in depth during the podcast interview and on the video.
In our real world testing the Titan 1000D pneumatic system needs a minimum of 90 psi to lift the table with a 850 lbs Harley Road King on it to full height. We tried it with lower psi, but it just could not lift it all the way up. At 90 psi it will lift to maximum height, but it will take about a minute, so your compressor will need to hold 90 psi for that amount of time. We increased the psi to over 100 with our industrial air compressor and there was noticeable difference in how fast the lift got to maximum height. The maximum working height is 35″, which we find to be just right. There is a foot pedal/valve to put the lift up and down once hooked into your air compressor hose.
In the video on this page we show you everything from delivery, inspection, unboxing, assembly, testing, using, and reviewing the Titan 1000D lift. We are very thorough and you will have no questions on this lift when you are done.
Pros:
The Titan 1000D is built solid and easy to assemble. It functions perfectly and has features you find in professional motorcycle maintenance shops. I believe this lift is perfect for the biker that wrenches on his motorcycle in his shop or garage all the way to a professional style motorcycle maintenance shop.  I trust this lift and have no worries that it will fail me. I really like the rear drop out panels and the front wheel vise. The extra long drive up panel makes getting on and off the ramp super easy and smooth. As stated, the side panels are a must along with the mini jack.
Cons:
We only found one negative when thoroughly and rigorously testing the Titan 1000D motorcycle table lift.
The front of the lift table has several pre-drilled holes that the front wheel vise can be bolted down in, depending on the style and length of motorcycle you are working on. We bolted the front wheel clamp down in the shortest lift position possible.
We had a standard frame 2012 Harley Davidson Road King on the lift and wanted to use the rear roller drop out panel to spin the rear wheel. With the stock rear tire in between the rollers on the drop out panel we could not move the bike forward and get the front wheel all the way into the wheel vise uprights. We could only use the leverage of the bottom horizontal portion of the front wheel vise to secure the wheel. Of course it is a must to then use ratchet straps to make sure the bike doesn't tip over.
There is a workaround to this by drilling a few more holes in the front of the lift table to allow more positions for the front wheel vise, thus moving it back.
Make sure to subscribe to our YouTube channel and get into the free email club to find out when we release new free videos like this.

Titan SMDL-1000D-XLT Motorcycle Lift Table

Summary

Overall, we love everything about this motorcycle lift & have given it heavy use over time with no problems whatsoever! The only thing we think could be better would be to manufacture the lift with extra holes to mount the front wheel vise in.
Specifications & Information:
INCLUDES
Front Wheel Vise
Multi-Positional Front Table Extension
Side Extensions
Stabilizer Bar
Standard Rear Wheel Drop Out
Roller Plate Drop Out
Detachable Ramps
Air Powered Lift Controls
Two Wheeled Dolly
Specs
| | |
| --- | --- |
| Width w/Extensions | 48″ |
| Side Extensions | 11.75″ x 87.5″ |
| Length w/Front Extension (Position 1) | 99″ |
| Length w/Front Extension (Position 1) & Ramp | 120″ |
| Length w/Front Extension (Position 2) | 94.5″ |
| Length w/Front Extension (Position 2) & Ramp | 114.5″ |
| Length w/Front Extension (Position 3) | 89.5″ |
| Length w/Front Extension (Position 3) & Ramp | 109.5″ |
| Front Extension | 24.5″ x 23.75″ |
Shipping Info
| | |
| --- | --- |
| Shipping Length | 91″ |
| Shipping Width | 27″ |
| Shipping Height | 23″ |
| Shipping Weight | 750 lb |
SPECIFICATIONS
| | |
| --- | --- |
| Lifting Capacity | 1,000 lb |
| Power Unit | Air Only |
| Min Length | 87.5″ |
| Max Length | 99″ |
| Min Width | 24″ |
| Max Width | 48″ |
| Min Height | 8″ |
| Max Height | 35″ |
We are an authorized Titan Lift Distributor, so visit our store.

We can assist you with any Titan product you may be interested in.