Many have tried to make aftermarket Harley saddlebag safety bolts over the years. I wanted to share with you what I believe are the best two options, each varying in price. Harley-Davidson has had issues over the years with saddlebags actually coming off while riding down the road. Forget the damage to the saddlebag it causes, but that could be very serious if you're riding in a group or for any other motorists following you. Forget those flimsy stock quarter turn pins that we have all dealt with for years and never really trusted. Harley-Davidson even had several recalls on those 1/4 turn pins and my 2014 Harley Street Glide Special had a recall on them. They just replaced the pins with different pins and a spring nut and they are still junk. (see video below for further info)
In more recent years, starting on 2017 Harley models, Harley replaced the failing 1/4 turn pin system with a clunky ratchet type handle. It's a better system, but still very clunky to use and not completely trusted. Plus, every time you try to get gear out of your saddlebag you get hung up on that lever. We wanted to combat these problems with an affordable, yet high-quality Harley saddlebag safety bolt kit, and we brought it right to the Law Abiding Biker™ Store. We have received a ton of positive feedback on this kit.
Both of the options we provide make taking your Harley saddlebags off and on a breeze. And you can assure when fastened, your saddlebags will be very secure and not come off going down the road. Both saddlebag safety bolt versions can be taken on or off with thumb dials and NO TOOLS ARE NEEDED! Many other saddlebag bolts out there require wrenches and that's just a hassle.
This is our higher end saddlebag safety bolt kit option. The kit includes everything you need to install the Rickrak Saddlebag Safety Bolts. You get the spring nuts to be placed on your bike, the stainless steel machined knobs with bolts, stainless Steel washers, and retaining washers. This Rickrak solution for Harley saddlebag safety looks great on your bike and offers superior heavy duty stainless steel safety. Set of 4 included in the kit.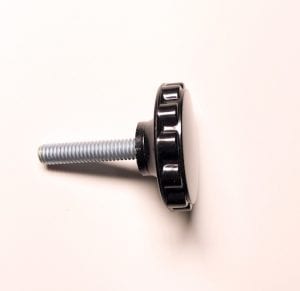 These are a less expensive version of Harley saddlebag safety bolts. They are still high-quality and a great option. Instead of having a stainless steel knob, these have a black polymer knob, which brings the costs down. The knob is dimpled, making it easy to grip and turn. These are our exclusive Law Abiding Biker Branded Saddlebag Safety Bolts for Harley-Davidson, made by Rickrak. Set of 4 included in the kit.
Join the Free Email Club!
If you appreciate this free information make sure to join the thousands of law abiding bikers that have already joined the free Email Club! You will be notified of new useful motorcycle content and techniques as we put them out. Join the Community now!