Podcast: Play in new window | Download | Embed
Subscribe: Apple Podcasts | RSS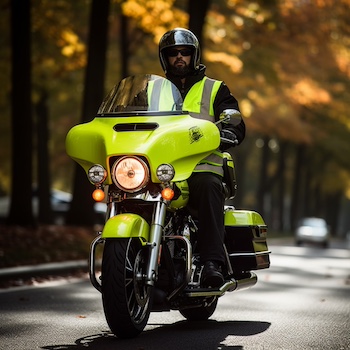 In this episode, we talk about motorcycle safety, more specifically being seen. A common complaint of street riders is that other motorists fail to observe them. Motorists who violate motorcyclists' right-of-way frequently state, "I didn't see him," or "He came out of nowhere". We talk about rider clothing, equipment, lighting, paint, and more.
Apparel
A bright-colored helmet will catch the motorist's attention and enhance motorcycle safety. Over 70 percent of helmets sold are black. Most collisions occur in broad daylight. Wear brightly-colored or reflective clothing to increase your chances of being seen. Bright orange, red, yellow, or green jackets or vests are the best for being seen. Brightly colored helmets can also help others see you. Reflective material on a vest and the sides of the helmet will help drivers see you from the side. Reflective material can also be a big help for drivers coming toward you or from behind. Remember, your body is half of the visible surface area of the rider/motorcycle unit.
Motorcycle Color
Your best bet might be to go with a white motorcycle, which is bright, reflects light, and stands out from other colors. While white might not be the first choice for riders, it can appear as a classy option. For instance, a white Harley-Davidson shows off your power and style when you're cruising around town. During the hot summer months, it will reflect light and absorb less heat than a darker motorcycle. However, you'll have to be careful if you're riding a bright white bike against snow. If you're going to be frequently riding in this type of weather condition, ride a bike with a contrasting color.

Other colors to consider are orange and yellow, which can draw more attention to your bike. In daylight, green is the most visible color from a distance for human eyes. In the darkness, however, yellow is the easiest color to recognize. The rods (small structures in the eye) are responsible for sight in low-light situations. And the cones are responsible for high-light conditions.

Lighting
The best way to help others see your motorcycle is to always keep the headlight and, if equipped, running lights on. A motorcycle with its light on is twice as likely to be noticed. Using your high beam during the day and at night increases the chances that oncoming drivers will see you. Use your high beam when it is legal and safe to do so. When it is foggy, use the low beam. Headlight and brake light modulators create a unique light pattern that grabs attention. Additional lighting that shows the dimensions of your motorcycle can help you be seen.
NEW FREE VIDEO RELEASED:
And remember Loud Pipes Save Lives! Ride Safe & Ride Often!
Sponsor-Ciro 3D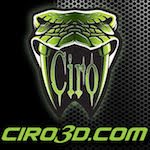 Innovative products for Harley-Davidson & Goldwing
Affordable chrome, lighting, and comfort products
Ciro 3D has a passion for design and innovation
Sponsor-RickRak

The Ultimate Motorcycle Luggage Rack Solution
Forget those messy straps and bungee cords
Go strapless with a RickRak quick attach luggage system & quality bag
Sponsor-Butt Buffer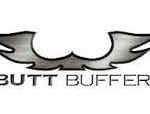 Want to ride longer?
Tired of a sore and achy ass?
Then fix it with a high-quality Butt Buffer seat cushion?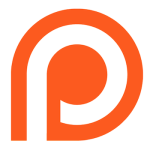 Allen Benson of New Waverly, Texas
David Jones of Healdsburg, California
Joshua Lyons of Fenton, Missouri
Join the Free Email Club!
If you appreciate this free information make sure to join the thousands of law abiding bikers that have already joined the free Email Club! You will be notified of new useful motorcycle content and techniques as we put them out. Join the Community now!