Why I Decided to Replace my Plastic Intake Manifold
So. It all started when I heard a story about a podcaster upgrading his engine. The dealership that put in a 131 engine told him there is an ongoing problem with the plastic intake manifold on the Milwaukee 8 (M8) warping. Yes, you read that right. Plastic! Who would put a plastic intake manifold on a motorcycle? This just seemed like a stupid idea.
I started to worry. Not big "W" worry but kind of a nagging though. I started wondering about how my bike was performing. An unexplained deceleration pop here and there, my mileage hadn't been great and there was a morning where it acted like it was a carbureted bike. It was kind of a random issue here and there and none of it was consistent. Just every once in a while you would notice things weren't right. I am coming up on 50k and I don't baby my bike. This possible issue had me thinking about the stupid plastic intake manifold when I woke up at night.
I came across an S&S manifold for under $200 and decided to pull the trigger and just go ahead and swap it out. S&S is about as trusted as you can get and the video on S&S's youtube channel looked pretty simple. I thought about reaching out to Law Abiding Biker again and seeing if they wanted to film the installation but I thought that S&S had a pretty good tutorial video and that I might be just wasting time on suggesting a new video. Here's the thing though; the Law Abiding Biker crew has said a bunch of times, they are going to show us "step by step without skipping any steps." The S&S video skipped more than a couple of steps. But that is getting ahead of the story.
Disassembly
Saturday morning, coffee brewed, cup filled, and out to the garage, I go. Back the wife's car out, set up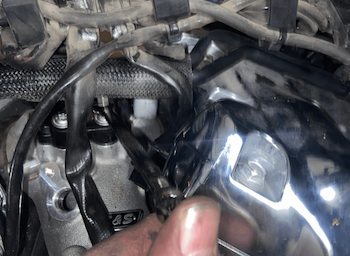 my folding table for parts, and strip off the seat and tank. Air filter off, wait, what's this? My breather bolts were loose, not even hand tightened. Well, that explains why I have been getting intermittent oil blow-by on the front of my bike. It started this week after I cleaned my air filter between service intervals. I parked my bike after I noticed it knowing I would be taking the tank off and getting better access to things this weekend. Now that I know the why on that issue. The air cleaner backplate comes off and it is on to new territory.
This is where I started to notice the issue with the S&S video. They were time lapsing on all the disassembly. I ended up pulling out my manual and looking at the printed process. There was no doubt there were going to be gaps in this disassembly process I would have to figure out myself. I started to pull off the throttle body and found things pretty loose. Like the entire manifold was moving around pretty well. I knew that wasn't right. I pulled the throttle body off the manifold, I got to the point where I had everything disconnected, and went to pull the manifold off. The video instructions didn't bother to mention the rear manifold bolts.

Missing Bolt?
Things were moving well on the front cylinder but not at all on the rear cylinder. I ended up pulling my horn off to see better and saw that there was only one rear intake manifold bolt. There was no bolt holding the front cylinder manifold on the clutch side of the bike. I loosened the rear manifold bolt and things came right out.
I found it very surprising to only have one bolt here. No one has done any work on this part of my bike. Ever. Not me, not a shop. Not even anything close to it. Manifold bolts are not on anyone's inspection sheet. The exhaust manifold is on there at every service interval but not intake. This is not a part anyone is paying attention to.
OK. So now I know. It was a good idea to tear into my intake, even without the part replacement. It is good that I am in here right now. I was apparently overdue. Once I had the manifold out I put the two manifolds next to each other. Holy cow, how can you even compare the two? Let's take a minute to talk about the S&S manifold. Cast aluminum and CNC machined it is something of an art piece next to the stock plastic unit.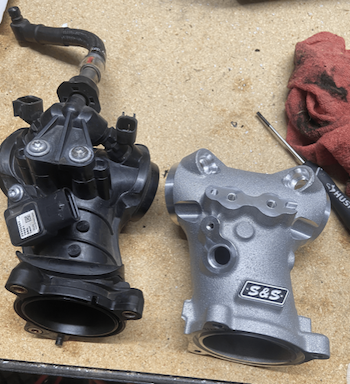 For reference, the manifold I installed is part number 160-0241. It is listed as fitting 2017-2021 M8 engines and is specifically applicable to replace the OEM plastic intake manifold in 124 and larger big bore builds. My installation is a simple 2017 107 CI motor that has a Stage 1 tune and kit. You would want to talk to your builder if you were going to a big bore kit, I am guessing there would be a change to the injectors and possibly even the throttle body.
Once the OEM plastic intake manifold was removed it was time to pull off the fuel rail and injectors and the MAP sensor.
Installation
The instructions and several other videos said to put the new manifold in loose and bare; then to put the map sensor, fuel rail, and injectors in after it is loose fit. Man, putting that little Torx 30 and 25 screws in there is a tight fit. In fact, there isn't enough room to get an L-shaped key into the Torx heads until it is completely seated and you are finishing up on the tightening. I ended up using Torx bits from a driver and a ¼ box-end wrench to tighten it up. It was one of the tightest installations I have done in a while.
The oil lines to the rear cylinder go straight over the top of the manifold above the screws and there is zero clearance. This is another place where the S&S video failed me. I wasn't quite sure how far the injectors set into the manifold and there was no image to help show it. The video is almost completely shot from the other side of the bike and there is no detailed look at this step. I ended up pulling them out, fitting them in the old unit and when satisfied I understood how they fit returning them to the new unit. It turned out I had them just fine for the last half hour while I tried to get them to seat just a little better.
After the MAP sensor, fuel rail, and injectors were installed it was time to put the throttle body and backing plate on the still loosely fitted manifold. Connecting the backing plate while the throttle body is loose positions the manifold to ensure that the interface is perfectly positioned between the engine and other intake systems.
Here is where another video shortcoming came in. I didn't know it yet but there is a wire harness that plugs into the bottom of the throttle body. This wire harness has to go on the inside of the backing plate where it connects via the breather bolt on the rear cylinder. The instructions didn't mention this and I ended up revisiting this step again later.
The backing plate is attached and the manifold location is firmed up it is time to tighten the manifold down. A huge shout out here to my independent mechanic Doug Morgan at Red Wrench Cycles, I texted him asking if he had manifold bolts in stock. He didn't but told me he certainly had one he would give me. Love this guy. He continues to pull my fat out of the fire time after time.
Now that I had all four manifold bolts I tightened it up. The manifold bolts are another set that doesn't give great access. You are going to want a long ball end Allen for the throttle side. Even then, put an extension on it with a wobble and you are probably gonna be ok but it is tight. The clutch side is even worse. I ended up grabbing the 1/4 inch bit from the same driver set, putting it in there, and using an end wrench to turn it. Even then, getting that bit in there was a pain.
All tightened up and it is time to reconnect the wires. Or it should be, instead, it is time to take the air cleaner backing plate off again and run the wire harness where it should have been run, to begin with. Now that I got that settled, it was the backing plate back on and the air cleaner installed.

Results
Tank on, the seat on, and it is time for a test ride. First, I fired it up while my Vance and Hines FP3 was live to see if I had any error codes. There were a few related to losing connection to the throttle body which was interesting since I hadn't switched the engine on while I was working. However, they cleared the minute the bike started up. No new codes, no problems running. Sounds strong, stronger maybe, or maybe it is my imagination.
I threw on my helmet and took it for a spin "around the block." It felt good, better in fact. Lots of front suspension extension on acceleration. I like that. Hard fast shifts and it is breathing well. Better. Is it the 3-5 HP that S&S promises? Who knows and who cares. I think it is better and I know long term it will be more reliable so… mission accomplished. This is one upgrade I highly recommend to anyone who is running an M8 engine. It just makes sense, especially for the price. Looking back, I probably should have done it with my air cleaner 30,000 miles ago.
I Need a New Air Cleaner Cover
Now, I kind of think it's a shame that I have that OEM football air cleaner cover on. It blocks the view of the manifold. I may need to get something with a smaller visual footprint. Alloy Arts was talking about a new translucent air cleaner they were developing that was supposed to be revolutionary. Maybe one of the bagger racing teams will develop something cool. We will just have to keep watching. There is always the next upgrade.
If you ever find yourself wondering what it is that separates the Law Abiding Biker video products from other how-to videos this is the list.
Step by step without skipping any steps
Multiple camera angles when necessary
4k video so you can really see the details
Detailed narration
No time lapse If you have to do it they are going to show it or have already shown it in another video.
Ride safe. Ride Often.
Join the Free Email Club!
If you appreciate this free information make sure to join the thousands of law abiding bikers that have already joined the free Email Club! You will be notified of new useful motorcycle content and techniques as we put them out. Join the Community now!