Podcast: Play in new window | Download | Embed
Subscribe: Apple Podcasts | RSS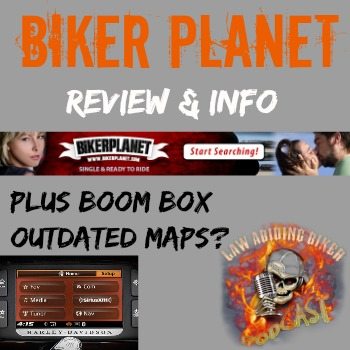 Podcast-We received a voicemail from community member Greg Ehring. He purchased a 2014 Harley Davidson Ultra Limited equipped with the 6.5 GT Boom!™ Box Infotainment System.  He noticed that the version of maps in his GPS were dated from 2012 and wanted to know why his new bike had old maps.
Harley-Davidson partnered with Harman Kardon to design the Boom Box and with NaviExtras to handle the map portion of the GPS in the larger 6.5 touchscreen models. The smaller 4.3 non-touch screen Boom Box does not have GPS.  No, neither Harley Davidson nor local dealerships are going to check to make sure you have the current GPS maps in your Boom Box upon purchase of your new  brand new Harley.
Quite honestly, even if you asked your dealership representative they would not have a clue how to check for that or even how to update it. Yup, Harley has done a poor job on this matter and you're on your own. But, I'm here for you to keep you informed on this stuff.
NaviExtra seems to have exclusive rights to sell you the new updated Boom Box GPS maps and maps for other portions of the world. Unlike Garmin and other companies with lifetime updates or lower priced maps, NaviExtras sells their maps for the Boom Box anywhere from $150-$200 each. So, if you get a brand new $30,000-$50,000 Harley you may likely have old outdated maps. So, you can keep your old maps or you can go and spend extra money with NaviExtras to update your maps in the Boom Box GPS. Yup, and there is no other way around it.
I know, it's frustrating many Harley owners for sure & I get tons of emails about it. I love my Harley Davidson, but the company should have protocols in place, so dealerships can update the Boom Box GPS maps on floor models, so a customer could have the most up to date NaviExtra GPS maps before riding away on their brand new bike.
New For Purchase Video:
Biker Planet
We also talk about Biker Planet and who's behind it in this Episode. They reached out to us and wanted to sponsor the show, so they obviously care about the biker community.  Of course, we are very picky here at Law Abiding Biker™ Media and will only promote products and services we truly believe in. We would never ruin the deep trust we have built with our world-wide audience for monetary gain.
We did our research and had personal contact with persons behind Biker Planet. We learned all about Biker Planet to include becoming members to get real knowledge about the platform.  We found it to be a good fit and a service we could share with our audience.
Biker Planet is more than just the largest niche biker dating website. It's and entire social community of bikers, even if you're not interested in dating. Are you looking for a dating relationship? Well, then head over to Biker Planet and find a dating relationship with someone that loves motorcycles and the lifestyle just like you! Not looking for a dating relationship? No problem, just simply head over to Biker Planet and connect with bikers around the world. You can plan rides, meet-ups, or just socialize.
Their website is super clean. You can chat, search, see who's online, browse photos, and check your own private mailbox.
There is no commitment and Biker Planet is free to check out. Make sure you use our special custom Biker Planet Link Here, so you can get all the perks and a lifetime discount of 50% should you choose to become a full member.
Sponsor for this Episode: (Biker Supporters!)
Email Read in Episode:
From Steven Stratton (Patron member of Law Abiding Biker)
Thought I would send you a short email. First, I really appreciate the speak my voicemail you sent me thanking me for being a patron. Just totally awesome dude. Thank you. I was driving my big rig back from Oregon and was listening to podcast 41, The one that dealt with lane splitting. Got a kick out of the fact that you guys Kinda didn't really know what that really was. As a long time California motorcycle rider I am very familiar with this practice. Just want to give you an FYI about this practice. Riding in the shoulder of a roadway in California is paralegal.

That is considered driving in a emergency breakdown lane. Most of California's interstate systems are anywhere from 3 to 6 lanes, Meaning California freeways. The law says that a motorcycle may split A lane when traffic is under 25 mph. They may not ride across any solid yellow line or in the shoulder of a roadway. You've seen the dotted white line dividing lanes on a multilane highway. Lane splitting is riding down that dotted White line. We California bikers at least the 99% law-abiding bikers call This riding the zipper. Even though this is legal it is extremely nerve-racking. Most drivers are not aware of motorcycles in California they are not looking for them. When doing this maneuver you must take extreme caution and be very vigilant. Loud pipes while doing this maneuver save lives LOL but no joke. I have many hours riding the zipper and gray hairs to prove it. One other thing. Though you can ride the white line in any lane, most of us chose the farthest left lane, fast lane because most drivers usually stay in there lane the farther left you go. So if you and the SFMC head to Cali ever again, I hope this was infotaining. Be safe Brother and to all your crew. Love this Podcast man.
Referencing Law Abiding Biker Podcast Episode #41
New Patrons:
Mark Ritsig of Grove City, PA
Ossie Moore
Grant Perry of Soldotna, AK


Edward Friday of Shalimar, FL
Christian Mell of Greenfield, CA
Cameron Thacker of Katy, TX
Join the Free Email Club!
If you appreciate this free information make sure to join the thousands of law abiding bikers that have already joined the free Email Club! You will be notified of new useful motorcycle content and techniques as we put them out. Join the Community now!