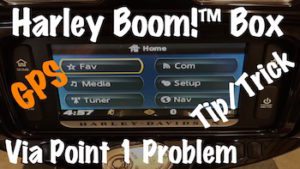 Video-I was recently on a 6-day motorcycle trip across multiple states on my Harley Davidson Street Glide Special. We ultimately ended up in Colorado.
Prior to leaving, we had our ride completely mapped out using Harley Davidson Ride Planner. I downloaded our trip and uploaded it to my Boom Box Infotainments System, which has integrated GPS.
Don't be frustrated any longer. I can teach you how to master the Harley Boom!™ Box
We all know by now that the Harley Boom!™ Box Infotainment System has had many bugs and issues since its inception. The integrated GPS system has seen its fair share of quirks that can be very frustrating.  Harley-Davidson & Harman Kardon, makers of the Boom Box, have been trying to work the issues out through the routine Boom Box Software Updates.
The error and frustration I speak of in this tutorial video is specific to the GPS "via point 1" issue. Basically, Ride Planner & the Boom Box don't always translate things the same. A rider should be able to just head out on the road each day and hit the "start" button in the GPS for that day's ride. What happens is that a mysterious "via point 1" gets put into the mix.
So, you head out on your Harley after hitting "start" button and the GPS keeps trying to re-route  you back to "via point 1".  In my case "via point 1" was a hotel we stayed at the prior night. Frustrating for sure.
The way you get around this is to go into the listed addresses and locations for that day's ride. Don't just hit the "start" button. Instead, scroll down through the ride plan and select the next physical address you are headed to that day. Then the Boom Box leaves behind "via point 1" and you can head on down the road.
Join the Free Email Club!
If you appreciate this free information make sure to join the thousands of law abiding bikers that have already joined the free Email Club! You will be notified of new useful motorcycle content and techniques as we put them out. Join the Community now!