See ALL Official Boom!™ Box Tutorial Videos!
-Join the thousands of bikers that are no longer stressing!
Videos By Bikers For Bikers
If you want to stay up to date on all Harley Davidson Boom!™ Box updates and issues, subscribe to the free Law Abiding Biker Email list below:

Harley Davidson and Harman Kardon just released Boom!™ Box software update version 1.20.3 in January of 2017. There are just some small behind the scenes fixes to version 1.20.2 that was released on October 17, 2016. Many of you know, HD pulled 1.20.2 shortly after release as some bikers were having problems. It's all fixed in 1.20.3 now, we hope.
We have received many inquiries from bikers asking if they should update to this latest version. It is always a good idea to wait and see if an update fixes more than it breaks and let me have some time to test things.
Note: This particular update if for the Boom Box 4.3 Standard, 6.5T Premium, and the CVO 6.5GT systems. I give the go ahead to update to this new Boom Box software update version, 1.20.3.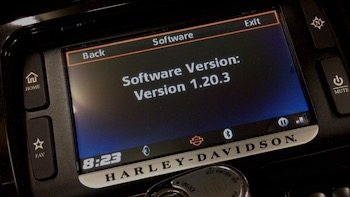 I installed and tested this software update for you. As usual, don't expect any miracles and that suddenly all things will be fixed for ever user. They still have a long way to go to get rid of all the problems that persist with the Harley Boom!™ Box Infotainment System. We are all skeptical that they'll ever get the Boom Box working perfectly at this point.
Question: If I get behind on updating my Boom Box software, will I have to go back and install each past update I missed?
Answer: No, you do not have to update incrementally. If you get behind, just grab the latest software update here and install it. It will update everything you need including past updates. There is no access to the older updates from the Harley website anyways.
Resources & videos:
Remember; The Harley Boom!™ Box still has many annoying bugs and problems, so don't expect this software update to suddenly fix everything.
If you don't know how to properly update your system software and maps then check out my Official Boom!™ Box Software Update Video.
This update claims to fix the following: (1.20.3)
Fixes:
Radio stuck in OFF mode on start up in certain instances.
Radio goes to OFF mode when is USB removed during start
up in certain instances.
Various fixes for blank or frozen screen issues during
operation in certain instances.
Various bug fixes.
Download Update
The Boom Box & Harley Davidson Ride Planner have been working pretty well together. The Boom Box Navigation has been more stable too! If you aren't using Harley Davidson's Ride Planner to integrate with your Boom!™ Box system then you are [Read more…]