Harley Davidson has equipped all 2014 and later touring models with the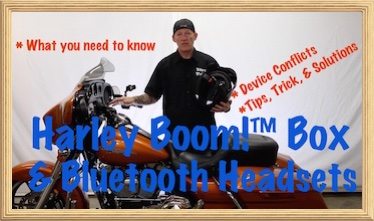 Boom!™ Box Infotainment System. Frustrating to many bikers/motorcyclists, is the fact that there is absolutely no Bluetooth headset communication system capable of pairing with the system (UPDATE-CHECK HERE!). There is still a fully functional wired Harley headset solution.
In this article and video I go over utilizing a completely separate in-helmet style Bluetooth capable communication & speaker system to listen to music, make phone calls, and talk to other bikers in your group.
Sometimes in town with my visor up a bit on my full face modular helmet or when wearing my half helmet, I listen to my music on my Boom!™ Box system speakers. I play the music on my Boom Box via a Bluetooth connection on my smartphone, which is mounted securely in my Biker Gripper Cell Phone & GPS Mount. I added a J&M Audio Rokker Extreme Front Fairing Amplifier & Speakers.
Check out our Harley stereo system install videos:
When I am in the saddle on very long days, such as some recent 8-9 hr ride days to Sturgis, I wear my Schuberth C3 Modular Helmet. I added on the SRC Bluetooth Speaker & Communication system to that helmet. The SRC is made by Cardo and specifically for the Schuberth C3 helmet, replacing the neck roll.
So, now I have the Boom!™ Box paired with my Smartphone and the SRC system in the helmet. This can cause Bluetooth conflicts while each device fights for the connection. That can ultimately result in the SRC falling out of Bluetooth sync, which then has to be set up again. Or you may want to switch to your SRC system from the Boom Box while riding, which has it's own unique set of connectivity issues.
I did some major testing over 9 days and 3,200 miles to Sturgis, around Sturgis, and back using this setup. I found several conflicts between the devices while trying to operate them. So, I came up with some tips, tricks, and solutions during my Sturgis ride and I pass them all along to you in this very detailed video.
Want to run a wired headset with your Harley Boom!™ Box?
YES-Make calls or receive calls and voice navigate the Boom!™ Box Infotainment system!
Join the Free Email Club!
If you appreciate this free information make sure to join the thousands of law abiding bikers that have already joined the free Email Club! You will be notified of new useful motorcycle content and techniques as we put them out. Join the Community now!