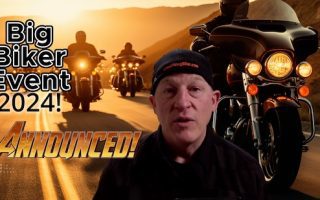 Here are the details and requirements for attending this event. See video below
Main Details:
Date: Saturday, June 8, 2024
Meet Location: Southwest Nashville, TN
Meet Time: Mid-morning
Group Ride: Nontechnical and shorter group ride
Arrive: At a location west of Nashville, TN in the early afternoon
Dinner/Social Event Location: A rented venue (by Patron Member Russell Roberts) where we'll have an awesome time connecting and getting to know each other. There will be a catered meal provided by Law Abiding Biker Media.
End Time: Late afternoon
Other: Exact details/times/locations of this event won't be given to you until you complete and meet all the requirements detailed below.
Official Sign-Up Details & Requirements:
Email: You must email Patron Member Russell Roberts at RussellDeanRoberts@gmail.com
Signup Deadline: April 1, 2024 and no exceptions will be made.
Patron Membership Required: And, you must have a paid Patron membership
Sing up as a Patreon Member Here: 👉 BECOME A MEMBER NOW
Must Receive A Response: If you don't hear back from Russell Roberts in a reasonable amount of time after you sign up via email, something went wrong, so try again. The reason is, that you must be confirmed via email as a participant along with your patron membership verification or you'll never get the exact details of the event to attend.
Further Details:
Understand, that this is a large event, and a ton of planning, logistics, and expenses go into it.
So, please don't sign up until you are certain you are attending. We must have a proper participant count as we don't want to be short on food and drinks. Not to mention the organizing of a large group ride like this.
Of course, if an unforeseen emergency arises and you have to cancel, please email Russell Roberts ASAP, letting us know.
If you have a significant other and are riding two up, please advise/email Russell Roberts of this in your initial email along with their name for a proper participant count.
No tag-alongs or buddies riding on separate bikes are allowed, unless, of course, they have a paid Patron membership and have signed up, for the same reasons as mentioned above.
Join the Free Email Club!
If you appreciate this free information make sure to join the thousands of law abiding bikers that have already joined the free Email Club! You will be notified of new useful motorcycle content and techniques as we put them out. Join the Community now!