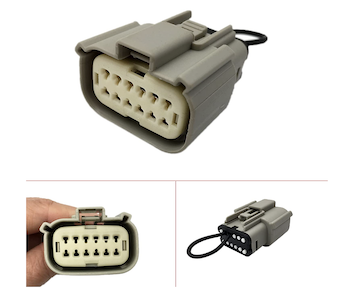 The only way to get full Apple Car Play functionality to work on your Harley Boom Box GTS Infotainment System is to install a Wireless Headset Interface Module (WHIM), Harley-branded wireless or wired headset paired, and plug your iPhone into the USB port in your Juke Box compartment via a USB Type-A to lighting cable.
Now, there are companies making jumpers/plugs that defeat the requirement of a WHIM and paired Harley branded headset……well kind of. Let me explain. All of these jumpers are the same, but some are cheaper than others and may or may not work.
Yes, we found a higher-quality jumper/plug on Amazon that does work for some Apple Car Play functionality on the Harley Boom Box GTS system and we've linked directly to it in this article.
Note: By clicking on any pictures or links in this article & making a purchase, we do get a small commission. No additional cost to you. Help support us please if you appreciate what we're doing to help bikers.
Get an Aokus FOR Apple CarPlay Jumper Compatible with Harley Davidson 2019 and up GTS RADIO
So, you simply plug this jumper/plug into the same large gray plug behind your fairing that you'd plug the WHIM into. It has a small jumper wire already installed on the plug.
Once the jumper is plugged into your bike and your iPhone is connected to your Harley's USB port, Apple Car Play will activate on your Boom Box GTS. You'll have to make sure your Boom Box settings are set to route all your audio to your speakers instead of a headset.
At this point, you can use Apple Car Play in a limited way. You can see maps and listen to music from your iPhone. However, because you must have a WHIM to pair a headset to your Boom Box, you will not be able to use Siri to give voice commands or make phone calls as you have no headset with a microphone, which is required.
So, certainly, if you just want to see and hear maps and listen to music with Apple Car Play you can pick up this jumper for your Harley.
HELP SUPPORT US! JOIN THE BIKER REVOLUTION! #BikerRevolution #LawAbidingBiker
🛒SHOP IN THE LAW ABIDING BIKER STORE 🛒
😎BECOME A MEMBER AND GET BENEFITS 😎
📹GET PREMIUM MOTORCYCLE TUTORIAL VIDEOS 📹
🎬WATCH OUR MOTORCYCLE DOCUMENTARY FILMS HERE🎬
🎙CHECK OUT THE WEEKLY PODCAST 🎙