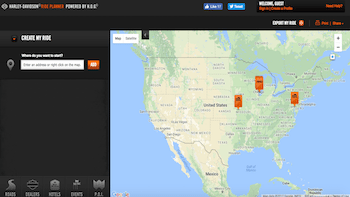 Congratulations! You have landed on the #1 most popular and best-selling Harley-Davidson Ride Planner & Trip Planning Tutorial Video available! The positive feedback from purchasers has been overwhelming and I thank all of you!
This is the most thorough step-by-step tutorial video on how to use the Harley Davidson Ride Planner. Harley-Davidson Ride Planner is an awesome feature that is accessed from the main Harley website. Anyone can sign up on the Harley-Davidson website and create a Ride Planner account with a simple username and password.
Harley Boom Box video line-up in the order you should watch!
If you haven't used the free Harley-Davidson Ride Planner online software to route and map your next motorcycle ride, we strongly suggest you start and this is the best place to do so online.
We here at Law Abiding Biker Media use the Harley Ride Planner to its fullest capabilities to map all our motorcycle trips. Within Ride Planner is a community of riders and it allows me to look at other trips that users have created and the ability for me to share my rides with them. I can even incorporate other riders shared rides right into my ride.
You can also plan and route a ride and then email it to a friend, who can then store it in their Harley-Davidson Ride Planner account or even upload it to their GPS unit. So, it is more than just a tool to map and route your next motorcycle ride.
In this Ride Planner Tutorial Video, I teach you everything you need to know. There is much to know within and I have taken much time to figure it all out for you. Once you watch the video, you will certainly feel comfortable using Harley Ride Planner to map out your next motorcycle trip.
I start with the basics, so if you don't consider yourself really "tech savvy" then have no worries. I teach you how to plan a complete motorcycle ride and then how to upload it to your supported Harley-Davidson supported external GPS device or directly into the integrated Harley Davidson Boom!™ Box Infotainment System. I utilize quality screen recordings of my desktop computer, so it is like you are right with me.
It doesn't matter if you are using MAC or PC, as Harley Ride Planner supports both! There is even a Ride Planner smartphone app that can sync with your free account. However, the app is limited and will not give spoken turn by turn directions.
Further, using Harley Davidson Ride Planner, I will show you even the most advanced features if you are so inclined to use them.
Included with the purchase of this video: I send out updated tutorials as major things change or are updated with the Boom!™ Box system. You will get these free updates as part of my commitment to you. Also included is a complete video index in .pdf format, so you can quickly search and get to the subjects you need within the video.
You will learn how to route a trip, drop blocks, delete blocks, create waypoints, name waypoints, check distance, check ride time, manipulate routes to hit awesome roads, manipulate waypoints, delete waypoints, book a hotel, find other users routed rides, incorporate them into your ride plan, find events, and everything else in between. Harley Ride Planner has a fairly solid user interface and I am here to show you how to use it in this easy to understand video.
Once we create a ride plan, I then teach you how to easily get it from your desktop or laptop computer onto your Harley supported external GPS device or onto your integrated Harley Davidson Boom Box Infotainment System. Once the planned trip is on your device, you are ready to go. You can store multiple rides on your device, so you are ready to ride for the year.
We go from desktop computer screen recordings and then straight to a recording while sitting on my Harley Davidson motorcycle. I show you how to upload your ride plans directly into the Harley Davidson Boom Box Infotainment System.
So, stop worrying about using this awesome free online tool. Every motorcycle rider should be using this to plan and route their motorcycle trips. Let's all share and borrow awesome rides by getting involved with the Harley Ride Planner community!
Next videos you should consider: