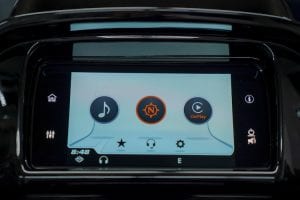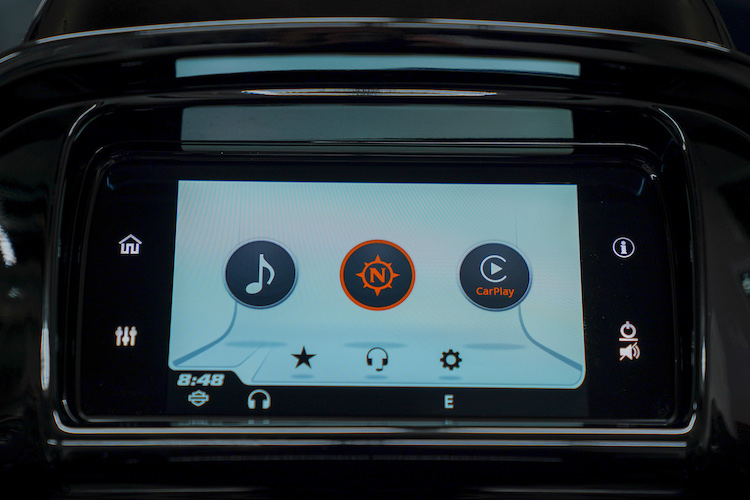 We upgraded a 2016 Ultra-Limited that had the older Harley-Davidson Boom Box Infotainment 6.5 GT to the new Boom Box GTS, which came out on the 2019 and newer Harley touring models. We filmed the install and will release that video on our Y0uTube channel, so get subscribed right away. (see our install video)
Converting to the newer Harley Boom Box Infotainment GTS System:
As of November 2019, Harley-Davidson made it possible to upgrade your older system to the new 2019 Boom Box GTS on those 2014-2018 touring models. Visiting Harley's website, it seems they are marketing and describing this conversion kit more towards upgrading from the smaller 4.3 non-touchscreen unit to the new GTS unit but you can upgrade from either the smaller 4.3 unit or the larger 6.5 GT unit.

For 14-18 Harley models, they state that an additional USB connector needs to be purchased for around $35-$50 but you can't even find the part on their own website at the time of this article. Further, we found during our install that it's not even required. This USB connector is the one that plugs into the rear of the Boom Box unit and it is already inside your jukebox compartment where you can plug in your smartphone or USB drive. We just used the USB connector that's already there instead of installing a new one and all works perfectly.
And that goes for all the other new cables that come in the box with the new Boom Box GTS such as am/fm antenna a GPS antenna. We didn't use any of the new cables and used the ones already routed and installed and all works perfectly.
Also, be aware that if you have XM radio and have installed the module on the rear of your older 6.5 GT unit you don't need a new one. Just remove your XM radio module and install it on the new Harley Boom Box GTS unit and all will work fine.
We sell a ton of these tutorial videos and are praised by bikers worldwide. Learn everything you need to know to get the most out of the Harley Boom Box system and how to integrate and use Harley Ride Planner!
Note: After upgrading to the new Boom Box GTS unit, you'll need to visit a dealership so they can flash the unit with their Digital Technician II software. Until then the unit will beep at you every 15 seconds or so, regardless if it's on or off.

Here is the information and part numbers you'll want to be aware of for a Boom Box GTS upgrade:
Harley Street Glide and Ultra Models 2014 to present:
Fitment is taken from Harley's own website:
Fits '19-later FLHTCU, FLHTCUTG, FLHTK, and FLHX models with a 4.3 Boom!™ Box Radio. Also fits '14-'18 FLHTCU, FLHTCUL, FLHTK, FLHTKL, FLHTKSE, FLHX, FLHXS, FLHXSE and FLHTCUTG, models with separate purchase of USB Connector P/N 69200031A. Also fits '19-later Electra Glide® Standard models with separate purchase of appropriate Hand Controls, Wiring, and Antenna.
Harley Road Glide Models 2014 to present:
Fits '19-later Road Glide® models with a 4.3 Boom!™ Box Radio. Also fits '15-'18 Road Glide® models with separate purchase of USB Connector P/N 76000374A.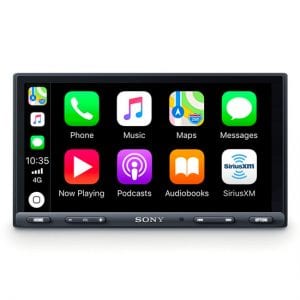 Converting to a Sony XAV-AX7000 instead:
Darryl "Squid" Barnes here at Law Abiding Biker Media dug in deep to find out everything you'll want to know if you're considering ditching your Harley Boom Box for the Sony XAV-AX7000 unit. Listen in to this podcast episode as I ask Darryl all the questions you'll want to know.
Note: The Sony XAV-AX7000 is designed for use in a car. It was never designed to be used on a motorcycle.
The pros of the Sony XAV-AX7000 Harley Boom Box Replacement:
The replacement Sony system has standard am/fm and it has both Apple Car Play and Android Auto baked in and they will function if your smartphone is plugged into one of the USB ports. It has a full 7″ touchscreen and is very sleek. You can buy a XAV-AX7000 bundled kit from certain companies that will allow it to install and function when installed on your Harley-Davidson. With Apple Car Play and Android Auto, you'll be able to use Apple Maps and Google Maps for navigation. Another nice feature is that with the Sony XAV-AX7000 you'll maintain your factory handlebar toggle control functions but with several limitations.
Note: If you appreciate all the information we provide and to help us continue our mission to help as many bikers as we can worldwide, consider purchasing a Sony XAV-AX7000 through our affiliate link below. No additional cost to you, but we get a small commission if you click through and make a purchase.
Further, the Sony replacement plays FLAC files on USB drives and includes Bluetooth hands-free calling and audio streaming. You can also jam to your favorite playlists on Pandora or Spotify if you use those instead of your pre-loaded Apple or Android music. The unit is also compatible with a SiriusXM satellite radio tuner. AND, it comes with a 1-year warranty.
The Sony unit also has dual USB inputs and has 45 watts RMS per channel and five 5-volt preamp outputs.
The cons of the Sony XAV-AX 7000 Harley Boom Box Replacement:
The Sony XAV-AX7000 is not a marine-grade like the Boom Box system is. So, you'd need to be careful if riding in heavy rains and when washing your Harley. Additionally, you won't see your EITMS on/off-screen or oil pressure like on the Boom Box. You'll also only get limited functionality with the use of your control toggles.
The XAV-AX7000 has a microphone included with a wire that you normally route inside a quiet car. Using this microphone for voice commands or phone calls with the wind and noise would be less than practical on a motorcycle.
The XAV-AX7000 only has a handsfree profile "HFP" and not a headset profile "HSP". That means you cannot pair a wireless Bluetooth headset directly with the unit, but you can pair your smartphone with it because of the HFP profile. This is similar to the Boom Box system but you can add the additional wireless headset interface module "WHIM" to get the HSP profile. There is no ad-on for the Sony unit to get the HSP profile.
So, you'll need to pair your wireless Bluetooth headset directly with your smartphone and then have your smartphone plugged in via the USB port to use Apple Car Play or Android Auto. You can then give commands to your phone which will then bring things up on the Sony unit.
Further, because the unit lacks the HSP profile, you'll lose your Harley intercom functionality and it's not CB radio compatible.
Remember, that the Sony XAV7000 unit was made for a car and that's why you need to buy a kit or bundle of things to make this conversion possible. There are companies around that sell the bundle.
Obviously, the Sony XAV-AX7000 is a much cheaper option than the Boom Box GTS if you don't care about the above-mentioned items and limitations.
Conclusion:
Now that you're educated on the Harley Boom Box GTS upgrade vs. the Sony XAV-AX7000 conversion, you have a decision to make on which will work best for you.
Join the Free Email Club!
If you appreciate this free information make sure to join the thousands of law abiding bikers that have already joined the free Email Club! You will be notified of new useful motorcycle content and techniques as we put them out. Join the Community now!