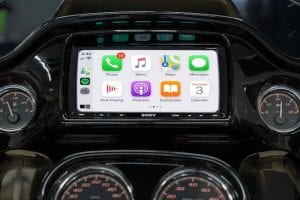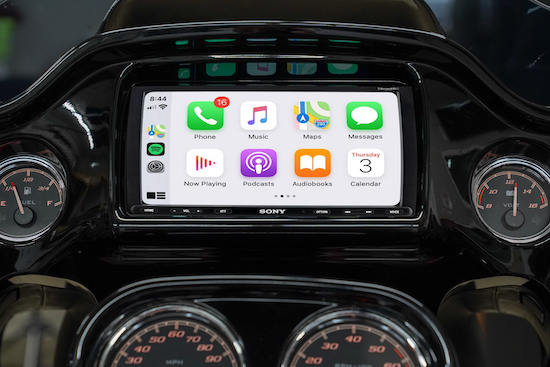 As of November 2019, Harley-Davidson made it possible to upgrade your older Boom Box system to the new 2019 Boom Box GTS on those 2014-2018 touring models. Visiting Harley's website, it seems they are marketing and describing this conversion kit more towards upgrading from the smaller 4.3 non-touchscreen unit to the new GTS unit but you can upgrade from either the smaller 4.3 unit or the larger 6.5 GT unit. This replacement GTS unit will cost you between $1600-$1800 plus labor. But, there's no need to pay a dealership to do this as we did a completely free tutorial video on our YouTube Channel on this titled "New Harley Boom Box GTS Conversion-How to Retrofit & Upgrade".
There is an alternative to the Harley Boom Box GTS and it's called the Sony XAV-AX7000, but there are some things you should be aware of. (see video below)
The pros of the Sony XAV-AX7000 Harley Boom Box Replacement:
The replacement Sony system has standard am/fm and it has both Apple Car Play and Android Auto baked in and they will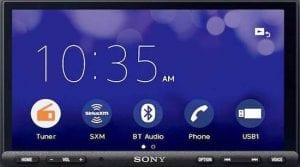 function if your smartphone is plugged into one of the USB ports. It has a full 7″ touchscreen and is very sleek. You can buy a XAV-AX7000 bundled kit from certain companies that will allow it to install and function when installed on your Harley-Davidson. With Apple Car Play and Android Auto, you'll be able to use Apple Maps and Google Maps for navigation. Another nice feature is that with the Sony XAV-AX7000 you'll maintain your factory handlebar toggle control functions but with several limitations.
Note: If you appreciate all the information we provide and to help us continue our mission to help as many bikers as we can worldwide, consider purchasing a Sony XAV-AX7000 through our affiliate link below. No additional cost to you, but we get a small commission if you click through and make a purchase.
Further, the Sony XAV-AX7000 plays FLAC files on USB drives and includes Bluetooth hands-free calling and audio streaming. You can also jam to your favorite playlists on Pandora or Spotify if you use those instead of your pre-loaded Apple or Android music. The unit is also compatible with a SiriusXM satellite radio tuner. And, it comes with a 1-year warranty.
The Sony unit also has dual USB inputs and has 45 watts RMS per channel and five 5-volt preamp outputs.
The cons of the Sony XAV-AX7000 Harley Boom Box Replacement:
The Sony XAV-AX7000 is not a marine-grade like the Boom Box system is. So, you'd need to be careful if riding in heavy rains and when washing your Harley. Additionally, you won't see your EITMS on/off-screen or oil pressure like on the Boom Box. You'll also only get limited functionality with the use of your control toggles. Sony says the buttons on the front and screen are "weatherproof", so that's helpful, but it's not "waterproof" like the Boom Box GTS, which is a sealed unit. The back of the Sony has holes and cutouts and moisture could certainly get in. Moisture can certainly get inside your front fairing, so it's something to be aware of.
The XAV-AX7000 has a microphone included with a wire that you normally route inside a quiet car. Using this microphone for voice commands or phone calls with the wind and noise would be less than practical on a motorcycle going down the freeway at 80 mph. At slower speeds, you may get some functionality if you lean close to the mic.
The XAV-AX7000 only has a handsfree profile "HFP" and not a headset profile "HSP". That means you cannot pair a wireless Bluetooth headset directly with the unit, but you can pair your smartphone with it because of the HFP profile. This is similar to the Boom Box system but you can add the additional wireless headset interface module "WHIM" to get the HSP profile with the Boom Box GTS. There is no ad-on for the Sony unit to get the HSP profile.
So, you'll need to pair your wireless Bluetooth headset directly with your smartphone and then have your smartphone plugged in via the USB port to use Apple Car Play or Android Auto. You can then give commands to your phone which will then bring things up on the Sony unit.
Further, because the unit lacks the HSP profile, you'll lose your Harley intercom and CB functionality.
The Sony XAV-AX7000 doesn't have built-in GSP like the Boom Box GTS does and you cannot pay to have it added on like the older Sony XAV-AX5000. So, in those areas without cell service, you won't have the backup internal GPS.
The Sony is not compatible with Harley Boom amplifiers, but it is compatible with all other aftermarket amps.
Remember, that the Sony XAV7000 unit was made for a car and that's why you need to buy a kit or bundle of things to make this conversion possible with the Harley. There are companies around that sell complete kits. The wiring has to be converted to work with your Harley wiring.
Obviously, the Sony XAV-AX7000 is a much cheaper option than the Boom Box GTS if you don't care about the above-mentioned items and limitations.
Join the Free Email Club!
If you appreciate this free information make sure to join the thousands of law abiding bikers that have already joined the free Email Club! You will be notified of new useful motorcycle content and techniques as we put them out. Join the Community now!