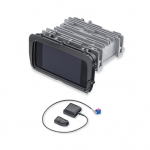 When Harley announced it's new updated Boom Box GTS Infotainment System it was equipping the 2019 & newer models with, they originally failed to make a kit so that owners of 2014 to 2018 Harley's could upgrade from the older version of the Boom Box system if they chose. This infuriated many Harley owners.
In my opinion, the new Harley Boom Box GTS unit is not that much better than the older 6.5 GT version. Yes, it's an improvement over the original 6.5 GT unit but is it worth that much money! You are basically paying to fix Harley's mistake with the first iteration of the Boom Box Infotainment System. And it's still not fixed as the new GTS also has issues that they're trying to fix.
We sell a ton of these tutorial videos and are praised by bikers worldwide. Learn everything you need to know to get the most out of the Harley Boom Box system and how to integrate and use Harley Ride Planner!
As of November 2019, Harley-Davidson made it possible to upgrade your older system to the new 2019 Boom Box GTS on those 2014-2018 touring models. Visiting Harley's website, it seems they are marketing and describing this conversion kit more towards upgrading from the smaller 4.3 non-touchscreen unit to the new GTS unit, but you can upgrade from either the smaller 4.3 unit or the larger 6.5 GT unit.
For 14-18 Harley models, they state that an additional USB connector needs to be purchased for around $35-$50 but you can't even find the part on their own website at the time of this article. Further, we found during our install that it's not even required. This USB connector is the one that plugs into the rear of the Boom Box unit and it is already inside your jukebox compartment where you can plug in your smartphone or USB drive. We just used the USB connector that's already there instead of installing a new one and all works perfectly.
Note: After upgrading to the new Boom Box GTS unit, you'll need to visit a dealership so they can flash the unit with their Digital Technician II software. Until then the unit will beep at you every 15 seconds or so, regardless if it's on or off.
Here is the information and part numbers you'll want to be aware of:
Harley Street Glide and Ultra Models 2014 to present:
Taken from Harley's website:
Fits '19-later FLHTCU, FLHTCUTG, FLHTK, and FLHX models with a 4.3 Boom!™ Box Radio. Also fits '14-'18 FLHTCU, FLHTCUL, FLHTK, FLHTKL, FLHTKSE, FLHX, FLHXS, FLHXSE and FLHTCUTG, models with separate purchase of USB Connector P/N 69200031A. Also fits '19-later Electra Glide® Standard models with separate purchase of appropriate Hand Controls, Wiring, and Antenna.
Harley Road Glide Models 2014 to present:
Fits '19-later Road Glide® models with a 4.3 Boom!™ Box Radio. Also fits '15-'18 Road Glide® models with separate purchase of USB Connector P/N 76000374A.
We here at Law Abiding Biker™ Media actually did a retrofit to the new Boom Box GTS unit and filmed the process. That video will release on our YouTube channel, so make sure you're subscribed.
Join the Free Email Club!
If you appreciate this free information make sure to join the thousands of law abiding bikers that have already joined the free Email Club! You will be notified of new useful motorcycle content and techniques as we put them out. Join the Community now!