VIDEO (below)-In this video I am on location in Missoula, MT on my trip to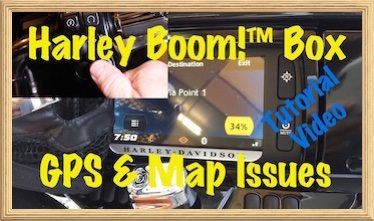 Sturgis, SD. You may be experiencing an issue with the Harley Davidson Boom!™ Box Infotainment System GPS & maps and I am here to shed some light on the problem.
Related Video/Article:
As stated in past articles, I really do back Harley Davidson on many things and love their products. However, I call these Boom Box issues "The Harley Davidson/Harman Kardon debacle." In a hurry to release and finish their Harley Rushmore Project bikes, my opinion is that they hurried on getting the Boom!™ Box system installed in these new models when it was not fully developed and tested.
Unfortunately, Harley Davidson has been silent about the large scale issues that are causing many very loyal customers to loose faith and cause anger towards company. In silence, developers for HD are working feverishly to release unannounced Boom Box software updates to try and fix all the bugs and issues. Further, several of the updates have fixed some things and broken others! That is why many around the world are coming to Law Abiding Biker™ Media to get the real scoop, for help, and to stay up to date. Harley Dealerships have actually purchased our Boom!™ Box Tutorial Video Series and have personally reached out to us for help. They too have been left in the dark on many of the issues by the mother ship.

If you want to stay up to date on all  Harley Davidson Boom!™ Box updates and issues, subscribe to the free Law Abiding Biker Email list.
The Issue/Map View:
In this particular free tutorial video, the Boom Box GPS will not let me view the map and route I created in Harley Ride Planner and that I uploaded to the unit before my Sturgis trip. Every time I go into the Boom Box and select the actual trip it gives me an error screen that says, "The calculated route contains areas where guidance is incomplete. Caution is advised." Worse yet is that I can't simply hit the "OK" button using my right joy stick/toggle. I have the 6.5 touch screen version of the Boom Box and literally have to push on the "OK" on the screen to move on. This is a new issue
From there it gives me another error that says, "The calculated route contains unpaved roads. Caution is advised."  I know this to be untrue and set this ride up in Harley Ride Planner myself and there are absolutely no unpaved roads in my route. I have to actually use the touch screen again and hit the "OK" button to force past it. Then it doesn't take me to the map view, but instead forces me into the GPS menu.
Work around and fix to force the unit into map view:
Simply go to your named and planned ride int the GPS navigation menu. Once it starts calculating the route on the lower right corner it will show a percentage of completion. Highlight that particular percentage box and hit your right toggle or reach up and select it. This will force you way past the endless loop of errors and you can see the map view. You can then proceed on your way with audio and visual turn by turn navigation.