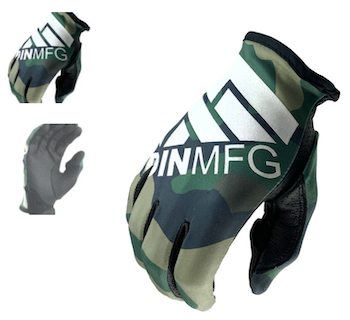 I'm Patreon Member Brad Johnston and I have a problem. Apparently, I believe there is a perfect glove out there. I keep searching for it. It has led me to purchase a drawer full of gloves that seldom make it onto the bike much less onto my hands. Last summer when Patron Member Matt Haywood was in my neck of the woods I noticed a pair of gloves hanging off of his tank, magically. I thought it was cool, but I was busy playing host and forgot about them. A few weeks later he posted a picture and I noticed those gloves again. When I reached out he told me about Odin Manufacturing.
If you know anything about me, you know I am a fan of Norse mythology. I'm 25% Norwegian and consider this one of my primary histories. My dogs have been named Thor and Baldr. My last two bikes were named Mjolinir and Heimdall. If I have named my dogs after Odin's sons I certainly am interested in a company named Odin.
About the Company
Odin is a small manufacturing company located in Alberta Canada that was founded in 2016 by two brothers. They say that commitment, dedication, and patience have brought them to where they are today. Their designs are influenced by their roots in snowboarding, motorcycles, mountains, and music. Starting as a bootstrap company they have outgrown their garage and basement but continue to carry forward their family values. They are a company built by riders that test their innovative products only one way, giving them seat time.
Products
Odin features gloves, anoraks (that look very interesting for an alternative to regular rain jackets), vests (which can be custom-built) rain gear (which looks innovative), and a variety of casual clothing. There is a variety here that is likely to appeal to a broad category of riders. It is worth looking over the entire website.

Pricing
One thing to make sure of, while shopping, is that you select the correct currency as you are browsing the site. Pricing is displayed in either United States Dollar (USD) or Canadian Dollar (CAD), depending on your selection. When I was shopping, I went back one day and found pricing had increased substantially. It had not, My denomination had changed though. At this writing, the CAD is worth 79 cents so it makes a difference.
Gloves
There are two features common to all of Odin's gloves. The tank grabber magnets hold your gloves to the tank and the flip-top fingers. They have a variety of gloves available. MX-style gloves have a super light leather palm and fabric backs available in a variety of printed themes. The Originals and Heavy Hitters are both available in solid or perforated leather. Their gauntlets feature a 75-gram Thinsulate liner and long leather cuffs with a zipper to cinch them down. It's safe to say that there is a glove for everyone in their lineup.
I ordered the model called The Originals. The Heavy Hitters and The Originals are very similar in design with the exception of the hard knuckles and padded wrist of the Heavy Hitters. The rest of the design appears the same. I haven't had good luck with hard knuckles. I have an old injury on one hand that resulted in a misplaced and malformed knuckle. As a result, it doesn't play well with a lot of gloves with firmly placed knuckles. I opted for the originals. Both Heavy Hitters and Originals are available with perforated and solid leather. I have a good pair of mesh gloves so I went with the solid leather.
First Impression
The first thing I noticed was the packaging and quality of the leather. The packaging was attractive but not overdone. The cardboard hangtag has a Valknut on it (a Norse rune associated with warriors and Valhalla), this spoke to me, but probably won't to everyone. The glove has a nice thin cowhide that is supple and preformed to the natural curvature of your hands. Not all gloves are created equal here and while most will eventually form to be shaped like your hand starting there is an improvement.

Palms
The palms are reinforced with a double layer of leather and quilted. The palms retain a good feel without being bulky. Looking at the palm construction and thinking about past spills I am pretty sure the palms could save me some significant road rash on the palms. There is no other scaphoid protection or palm sliders but, if that is the glove you are looking for, this isn't the style for you.
Seams and Cuffs
Odin designed these gloves with many seams where the fingers and sides are sewn together creating a slim profile. This is certainly not the cheapest way to make these gloves and it is noticeable to the end-user. The inner seams are smooth and non-offensive. The back of the glove has a short cuff that does not interfere with my apple watch (a problem with some gloves) and has an elastic gathering of the fabric to keep it taught while still allowing an easy-on and off. A rubberized velcro tab tightens the wrist nicely. The bottom side of the cuff has a large tab that extends down with a magnet inside of it. The leather on this tab is soft and not likely to cause any scratching on the tank when used. The magnet grabs the tank firmly and has held, even in pretty stiff winds. I don't think I would trust it while riding though.
Branding
There is a lot of branding on these gloves. However, it's the type of branding that you don't mind. A small red tab that says ODIN, embossing on the back of the middle finger that says ODIN a Valknut on the back of the glove, and the velcro strap has the company name on it as well. Personally, I am ok with the branding. My favorite gloves, which I have had for about 20 years, have no visible branding on them and I have no idea who made them. I wish I knew so I could buy another pair. That won't be a problem with these gloves.
Easy Flips Fingers Glove
I've tried a lot of different gloves that promised to be touch screen friendly. Most are nothing but a failure. These gloves are gimmick-free. I was pretty skeptical when I saw the fingertips. They look pretty bulky and even a little sloppy. When on, you forget they are there. You forget they are there till you need it that is. A slight tug, frequently with my teeth, and your finger is free, no fabric covers your fingertip or thumb. The freed digits make it easy to deal with your D-ring, your phone, grab your card to pay for gas, and other things you would normally need to take off your gloves for. I was a little worried about how this would wear over time but four months and a thousand miles or so and it seems to be wearing just fine.
My Overall Review
These are quality gloves that I like a lot. Sizing is solid and in keeping with the information on the website. Follow their guides and you should be spot on. My gloves allow me a great deal of dexterity with gloved hands which is awful nice. I am kind of a glove snob and these gloves make the grade.
I only have one downside that I found. It is also pretty specific so not likely to affect many others. My primary riding jacket has extended cuffs that have thumb holes on it. I kind of like it because it does create a nice seamless transition between coat and glove. When used together the seam on the jacket thumbholes and the inner seams of the gloves overlap. This causes extra bulk right on the inside web of one thumb. The fact it's only one thumb makes me think it may be a "me" problem. Like I said, my hands are kind of weird. It's a little annoying. It's not like it causes you pain, just annoying and unlikely to be something I'd want to live with on a 600-mile ride. The seams may settle in, I may develop a callus there. We will see. Right now, I tend to not use the extended cuffs from the jacket with the gloves and it's all good. One more lesson about how all your gear interfaces together and how strengths may become weaknesses.
I like the looks of all the Odin products and will probably end up buying another pair of gloves at least. Their rain gear looks off the hook too. I mean one can't have too much gear, can they? Please, no one tell my wife I asked that question.
Join the Free Email Club!
If you appreciate this free information make sure to join the thousands of law abiding bikers that have already joined the free Email Club! You will be notified of new useful motorcycle content and techniques as we put them out. Join the Community now!