First, let me make this clear. I am not part of the Law Abiding Biker (LAB) crew. Yes, I am a patron member. I have been hanging around as a patron member for a couple of years and I have met a few of the guys more than once. A few of them are in the contacts on my phone because we have talked once in a while. It's not because I am part of their corporate life though as anything but a customer, and now a website article contributor. I reach out to them when I have ideas. That's how the West Coast Patron Event happened. It's also how I ended up spending a day in the studio.
Everyone who follows Law Abiding Biker Media knows that Ryan Urlacher is one of the hardest working creators in the industry. What you may not know is that Matt Couchman "Lurch" is right there with him. He's not just the pretty hands in the videos. He's part and parcel of the success at Law Abiding Biker Media, but I digress.
FILM DAY
So what is a day at the Law Abiding Biker Media studio like? I arrived at 8:30 am rolling up on my Harley and wondering what the day would be like. The first greeting was not from Ryan or Matt but it was from Ryan's dog. The dog barely waited for my bike to stop before she was at the throttle side looking for attention. Here is a word of advice. If you don't want to keep throwing the toy don't start throwing the toy. I am a dog lover so I knew what I was getting into when I started but I had a new friend developed right there. Ryan and Matt were there but occupied by something else.

Ryan, or his wife, had a treadmill delivered on Friday, so the first order of business was getting the treadmill into the old studio (AKA bonus room). While I started to help out, the stars ended up aligning and Ryan and Matt did it themselves. You can really get a feel for how long people have been friends by the ball-busting that goes on at a moment like this. These two have been friends for more than a minute.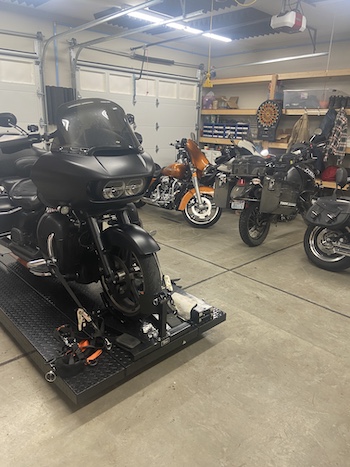 Once the treadmill was in place the bike shuffle began. One bay in the Media studio/shop has four LAB bikes, a Kawasaki KLR, a police Harley Electra Glide, a Harley Dyna Low Rider S, and a Harley Night Train. Ryan's Street Glide Special was on the lift in the next bay and we needed to get my Harley onto it. Because it was going to be raining soon we wanted all the bikes inside. One bay now had five bikes in it to make room. My bike went on the trusty Titan Motorcycle Lift that LAB sells right in the Law Abiding Biker Store.
Ryan was kind enough to ask if I had ever ridden a bike up onto a lift. He said it was a bit tricky and asked if I wanted him to go ahead and do it. I have more sense that my mom gave me credit for early in my life. Ryan hopped on my Harley Road Glide to put it on the lift. I wish I would have gotten a picture of this. My bike is set up to be comfortable for me. Ryan and I are about a foot different in height. Ryan choked up on my bike quite a bit. He was practically riding on the tank because my mini apes are pushed forward quite a bit. He probably had 3" between his back and the back of the Mustang Summit Touring Seat that advertises moving the rider back 1.75 inches.
This scene told me two things, Ryan knows his way around bikes and the ability of the Harley Davidson platform to fit different riders' needs is phenomenal. With the amount of conversation this model year, it is worth mentioning he needed no time to figure out the clutch.
FILMING AND THE NEW STUDIO
Once the bike was locked in the chock and strapped down on the lift we started to work. The goal this day was to install rear Rockford Fosgate speakers and pods to the tour pak on my Harley Road Glide.
We didn't need to film the tear down since they've already released plenty of videos on that so Matt and I started tearing off the fuel tank, seat, and front fairing. It was nice working with a competent partner and we had it done pretty quickly. Always a sad sight though seeing your bike stripped down to the backbone.
A quick word about the studio. We were in the garage portion but there was no doubt that we were also in a film studio. There was more sound dampening than you are likely to notice in a high school auditorium. Just about every flat surface on the ceilings and walls is covered with acoustic foam. The ceiling is full of lights. When it came time to set up to shoot Ryan brought out a camera and small light array along with a step ladder. Because he is in a studio, the setup time for him was about 2 minutes. There is no doubt that this shop/studio adds to overall productivity.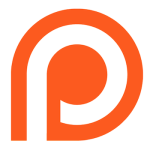 Having watched the YouTube Channel for a few years now, I saw a lot of videos produced in the old garage that's attached to the home which we carried the treadmill through. You can see that the old system would have required an hour, if not more, to get ready to film and on a rainy Saturday you might have been tempted to give it up as you had to drag all of your yard tools, kids bikes, wife's car, and everything else we all have in our garages, out into the driveway. The new studio by contrast is always in a state of readiness.
THE WORK
Matt started laying out parts and I cleaned out the tour pak on my bike, we talked a little about strategy, including what kits we had, and then started on the install. Then we encountered the first hurdle. The kit doesn't tell you where to plug in the rear speaker harness. Matt and I both pulled out our maintenance manuals and started looking through plug lists and electrical diagrams. We were both convinced we were looking for a gray molex plug. Turned out the description was misleading and we were looking for a black plug with a grey terminal probe. The manual said it was a 6-way plug even though it was clearly a 4-way plug.
Because of the lack of clarity, we plugged in the rear speaker harness and a speaker to see if we got sound. All was good! With the harness now run, we started mock-up of the pod install. This all went according to plan. It was time to drill so we drilled the small holes for the bolts but needed a hole saw for the portholes. The three of us hopped in Matt's truck and headed to the hardware store that's about five minutes away. If only this had been our last trip. We decided it was time for lunch and LAB was kind enough to buy us lunch at a nice sports bar in the area.

We got back to it and got the holes drilled in the tour pak. We did not miss the opportunity to make it look like we didn't know what we were doing via a photo and for me to tease my wife that we now needed a new tour pak. Matt did most of the work while Ryan filmed. Sometimes Matt stood around and waited for Ryan and me to finish talking about whatever topic we'd found to crawl down the rabbit hole of. I mostly stood back and kibitzed at this point. It was pretty much like any other day hanging with your boys in the garage wrenching on a motorcycle. The only difference was every once in a while Ryan would have to tell us to do something again or slow down the wrench, speed up the wrench, or similar directions.
WHEN THE MOMENT CAME
Then we got to that point in the project that will make everyone want to buy the video. We figured out that the instructions suck. The instructions have you putting the hardware in places the hardware can't possibly hold the pods to the tour pak. We tried it and filmed it several ways, while Ryan introduced each shot with "edit edit edit". We did this part more than twice but less than twenty times. The jack nuts that were supplied in the kit just kept pulling out no matter what we did. Then we got our Google on. We figured out that the jack nuts required a special tool to expand. It is kind of like a rivet tool. It all made sense.
Back to the hardware store. We found more jack nuts but no jack nut tool. Instead, we bought a couple of dollars worth of hardware, fender washers, lock washers, and nuts. Back to the shop/studio and more filming, this time with success. Of course, we just finished tightening things down when we realized that we forgot my wife's cupholder. We loosened up the throttle side pod and installed the Ciro 3D Passenger Mount Big Ass drink holder (Part of the reason we decided to go with speaker pods instead of saddlebag lids).
With the project all buttoned up a little before 5:00 pm we cleaned up the shop, shuffled the bikes, and sat down to make notes about the install and discussed that night's podcast episodes. We went into Ryan's house for dinner. Buddy the Studio Dog made an appearance. He's now blind and deaf but tough as nails. Ryan's family were gracious hosts and had picked up Vietnamese take out for us. Turns out Matt is a little bit of a light weight on the heat. Ryan's wife kicked up the heat level from their usual 5 to a 6. I got a little sweat on the brow but Matt was truly uncomfortable. It didn't stop him from getting seconds, but we had fun giving him a bad time.
Back out to the studio and getting ready for the podcasts. Ryan didn't tell me this was going to be the first live stream done in true high-def. I definitely have a face for radio. This high def thing. Not all of us are that pretty! We logged in, got running, and before we knew it the first podcast was in the can. A few minutes, a few frustrations for Ryan getting ready, and then we were back recording podcast episode 2.
THE FALSE END
We wrapped the night at about 9:45 pm. A little over 12 hours since we started up. I headed out, tired, but feeling pretty good about the day. I thought my day was over and I just needed to get back to the hotel to tuck myself in.
It didn't take long to realize that it was dark as can be and I forgot to switch out my dark tint face shield for my clear one. Now I know better than this but I was feeling lazy. I thought I would just pull my clear glasses out of the clutch side compartment and throw them on. Bad idea compounding an already bad decision. I felt something fall out of the compartment and hit my foot. I pulled over and got the glasses out. Assuming that whatever hit my foot wasn't important, I got back on the road. It seems stupid in retrospect.
Back at the hotel I grabbed my laptop and helmet, tucked away my gloves, and headed in for the night. At 11:00 pm the fire alarm went off. I was too damn tired and didn't smell any smoke so I stayed put. I heard the staff in the hallway saying it was a manual pull and false alarm. 15 minutes later the fire department showed up and started trying to reset the alarm. The alarm went off three more times before they were done. I finally dropped off to sleep around midnight waking with a start at 2:00 am Sunday morning. I realized that I had stuck my fob in the same compartment my glasses were in when Ryan rode the bike onto the lift. I panicked thinking that the fob was what fell out on the road. I got up, dressed, and grabbed my coat and helmet. I thought I was going back to Selah to find the fob, provided my PIN worked.
When I found the fob in the compartment it was a huge relief. My guess is what fell out was ChapStick. Probably well melted and over a year old. Back to sleep, it was much relieved not to be riding at 2:00 am.
I thought the story was over and it was just the trip home now but that isn't how these things go. I stopped at Starbucks for breakfast, eating outside since they weren't allowing indoor dining due to COVID. An old crusty biker called out to me as I was walking back to my bike remarking on my Oregon plates and asking what brought me to Yakima. I told him I had lived there for a while and liked to visit from time to time but that this trip was about doing some work on my bike with friends.
Of course, as these things go the conversation couldn't end there. He wanted to know who did the work and asked if it was Ogley Ray (a mechanic at a local Harley dealership). I told him it was not Ogley Ray but was a friend who ran a YouTube Channel. He asked what my friend's name was so I told him it was Ryan Urlacher. He mentioned Ryan's police agency he works for and asked if it was that Ryan. I told him it was. Of course, this guy knew Ryan and said that he'd had one of those moments where he had 30 seconds to make a decision about whether he was going to jail or staying free. He said Ryan was there for that. This guy apparently needed to talk. I heard about his murdered brother-in-law, his wife that died, and his new girlfriend. How weed had almost ruined him and how now it was a legal business that he just couldn't understand.
It was an interesting conversation, the type that only happens to guys who ride because people think they know what kind of person you are when you pull up on a bike. I ended up being a bit of a therapist for him that morning before he drove home to his girlfriend and I got on my bike. I was glad he made the connection and that I was there for him at that moment when he broke down. I've had those moments by myself and they aren't better alone.
This proved it is a small world. Evidenced by Ogley Ray's friend, the fact that I know people that know Ryan's sister, and that we in the Law Abiding Biker Community come from all walks, ride all makes and have never failed to have something to talk about.
It was a great weekend. It was about 400 miles of rural interstate riding across a mountain pass, crossing the Columbia River Gorge, and riding through the high deserts of Washington and Oregon. I got to hang out with a couple of good dudes, work on a bike, drink some beer and whiskey (no White Claw Tylar), and tell some stories. It was never weird. I was never star-struck. We were just a bunch of guys hanging out together. The only thing that would have made it better would've been if we would have needed to test ride something together so we could share the road. We will just have to wait for June in California for the large Law Abiding Biker Patron Member Ride & Meetup Event to share the road. Who knows though. It is a small world and odder things have happened.