We installed Wilbers LDC Nivomat front and rear suspension on a 2021 Harley-Davidson CVO Ultra. After riding the new Wilber's suspension on many different road surfaces, I can highly recommend this suspension and we decided to carry it right in the Law Abiding Biker Store. In this video, I give you my opinions about Wilber's suspension for Harley and compare it to several other name-brand aftermarket suspensions that I've tested over the years. (see video below)

WHY WE CHANGED THIS HARLEY SUSPENSION:
The owner was not happy with the overall ride of this 2021 CVO, which came with the standard manually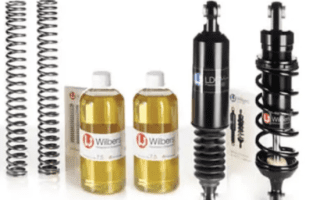 adjustable rear shocks that Harley has used for many years now on its touring models. He wanted a smoother ride and better cornering abilities, all of which the Wilbers LDC Nivomat front and rear suspension provides!
REVIEW/THOUGHTS:
I was absolutely blown away at how much smother this Harley CVO Ultra rode and cornered after installing Wilber's front and rear suspension! I did not realize what a difference this suspension would make! We tested it through alleys, potholes, dirt, speed bumps, and railroad tracks. And wow, it was more than I xpected and I highly recommend upgrading your rear Harley shocks to Wilber's! It even got rid of most of the bagger wobble while cornering at faster speeds. This Harley CVO just rode like a completely different bike!

You can either get the Wilber's kit, which includes both front and rear, or just one or the other and it's all available right in the Law Abiding Biker Store.
If you appreciate all the free videos, podcasts, & articles we put out, please consider supporting us by purchasing from the Law Abiding Biker Store! We'll take care of you! Bikers helping bikers.
Other videos of interest:
OTHER ITEMS MENTIONED:
If you appreciate all the free content we put out, please consider supporting us by using our affiliate links below. No additional cost to you and if you do click through and make a purchase we do get a small commission. Thanks in advance.
MOTION PRO FORK OIL LEVEL AIR GAP TOOL
OTHER VIDEOS MENTIONED:
HELP SUPPORT US! JOIN THE BIKER REVOLUTION! #BikerRevolution #LawAbidingBiker #Bikaholics
🛒SHOP IN THE LAW ABIDING BIKER STORE 🛒
😎BECOME A MEMBER AND GET BENEFITS 😎
📹GET PREMIUM MOTORCYCLE TUTORIAL VIDEOS 📹
🎬WATCH OUR MOTORCYCLE DOCUMENTARY FILMS HERE🎬
📱SHOP OUR AMAZON RECOMMENDED PRODUCTS 📱
🎙CHECK OUT THE WEEKLY PODCAST 🎙
Join the Free Email Club!
If you appreciate this free information make sure to join the thousands of law abiding bikers that have already joined the free Email Club! You will be notified of new useful motorcycle content and techniques as we put them out. Join the Community now!