Podcast: Play in new window | Download | Embed
Subscribe: Apple Podcasts | RSS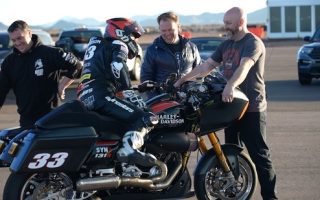 I got to spend a day trackside with the Harley-Davidson King Of The Baggers riders and the entire race team in Arizona at the Podium Club Racetrack. This was pre-season and a look behind the scenes of a practice and test day.
I was given exclusive access and got to hang out inside the large tent the Harley-Davidson race team had set up for this practice week in Arizona. Inside the tent were the actual 2023 Harley-Davidson King Of The Bagger race bikes in all their glory! While inside the tent, I got to really walk around and examine these bikes and all their modifications.
Harley-Davidson factory rider Kyle Wyman, who rides the #33 bike, and Travis Wyman, who rides the #10 bike, were present and I got to interview and get to know both of them a bit throughout the day. Travis even took me for some hot laps around the Podium Club Racetrack in a 2022 Ford Mustang for a better look and understanding of this track. See the video below for those interviews.

The Harley Race Team had a rather unique week at the racetrack and unseasonable weather for Arizona. The Podium Club Racetrack is only about a 10-minute drive southwest of Casa Grande, Arizona. It was 32 degrees when we hit the track at around 8:00 am this Wednesday and it only warmed to around 50 degrees. Monday it rained all day, only allowing a few laps for the team late in the day and Tuesday it was extremely windy with very large tumbleweeds blowing across the track, making it too dangerous for laps.
The night prior to my arrival at the track, it rained extremely hard, leaving the track with standing water and mud across it in places. Because of this, Kyle and Travis had to wait until the afternoon to finally hit the track.

It was amazing to see how dedicated the entire Harley race team and riders are to this sport. I watched as the Wyman brothers raced their modified Harley baggers around the track and oh what a sound that is. It's literally music to my ears. If you haven't heard it in person, you really need to get to a race.
After laps, the Wymans would bring their bikes either near or into the tent, where the very dedicated race team would make any changes or modifications to the motorcycle itself or hook it up to a computer for tuning or data acquisition. The entire team works together well and each member has their own duties.
Also, while I was trackside for the day, Harley-Davidson Manager Of Engineering (Screamin' Eagle) and Race Team Manager, Jason Kehl, told us all about a brand new Harley 135 cubic inch performance crate motor they are releasing for 2023. See my 135 crate motor release video and info here.
Understand, that these 2023 Harley-Davidson King Of The Baggers motorcycles were not completely done and the team was still tweaking them the day I was with them. So, the bikes you see in the video below may look a bit different than when you see them actually hit the racetrack on March 9-11, 2023 at Daytona, for the first race of the 2023 season!
There will be 14 races at 7 locations for the 2023 season. Here is the complete schedule and locations.
NEW FREE VIDEO RELEASED:
Sponsor-Ciro 3D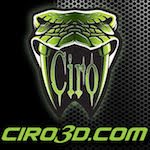 Innovative products for Harley-Davidson & Goldwing
Affordable chrome, lighting, and comfort products
Ciro 3D has a passion for design and innovation
Sponsor-RickRak

The Ultimate Motorcycle Luggage Rack Solution
Forget those messy straps and bungee cords
Go strapless with a RickRak quick attach luggage system & quality bag
Sponsor-Butt Buffer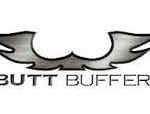 Want to ride longer?
Tired of a sore and achy ass?
Then fix it with a high-quality Butt Buffer seat cushion?
New Patrons:
Kevin Bosch of Centerville, Tennessee
Ron Reeve of Lehi, Utah
Sean Balsamello of Williston, Florida
Renita "Shorty" Beaty of Chattanooga, Tennessee
Derrick Galan of Regina, Saskatchewan, Canada

Chris Landmark of New Prague, Minnesota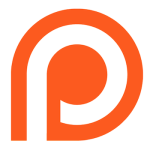 Glenn Harmon of Independence, Missouri
Bob Nelson of Henderson, Nevada
Graeme Dumbrell of Newcomb, Australia
[gravityform id="3″ title="true" description="true"