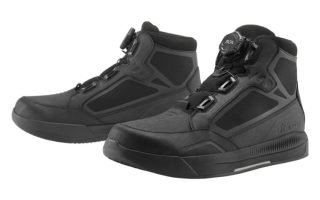 I recently took a 10-day, 4,000-mile motorcycle trip while wearing and riding with the Icon Patrol 3 Boots. These replace the Icon Patrol 2 boots, which I absolutely loved and did a review on back in 2021 on my YouTube Channel. There have been significant changes made to these progressive motorcycle riding shoes/boots. In the below video, I discuss what's been changed and I give a thorough review.
I am always searching for & testing progressive motorcycle riding gear. I'm not very traditional and know there is way better gear to wear when riding a Harley, other than heavy bulky leather coats, chaps, and big clunky biker boots. I like gear that is protective, functional, and often works on and off the bike.
The Icon Patrol 3 Boots met my standards and I really enjoyed wearing them during this particular motorcycle trip and others. When you first look them over you can tell they are built well and of good quality. These shoes/boots offer much riding protection, yet are comfortable and stylish. They come on and off very easily with the BOA lacing system. With the BOA lacing system, classic laces are replaced by stainless steel wires, connected to a turning knob. You can tighten or loosen these shoes to just the right feel.
* If you appreciate our articles and videos, please consider using our affiliate links below to purchase any items. No additional cost to you but we get a small commission if you click through and make a purchase. It helps support our efforts.
During my trips, I did ride in the rain and it was very nice not to have to worry or pull over as the Icon Patrol 3 boots are waterproof! I could just ride on in conjunction with my other progressive riding gear.
Versatility:
I also walked around town every evening after riding all day for dinner and entertainment wearing these shoes/boots. They worked great for that too! That's what I'm talking about when I say I like motorcycle shoes/boots that work for many different things. Space is limited when packing for motorcycle trips, so multi-purpose shoes/boots such as the Icon Patrol 3 Boots work great. On a stiffness scale of 1-10, 10 being the stiffest, I'd rate these at a 6 and they break in easily and nicely. They are very comfortable.
Environments:
I rode with and wore the Icon Patrol 3 Boots in temperatures ranging from 33 degrees to 100+ degrees and they handled it well. I rode in sustained 33-degree temperatures for 2 hrs and my toes did not get cold. Of course, in 100-degree temps, your feet can get warm but that is understood and the same thing would happen in any boots. My feet did not get any warmer in the Icon Patrol 3 boots than in any other motorcycle-riding shoe/boot I've tested thus far. They actually breathed rather well in hot weather.
Sizing:
I am a U.S. men's size 9.5. I ordered this size. They fit perfectly and are true to the listed sizes.
Overall, I love the protection, look, the functionality of the Icon Patrol 3 Boots. They are very comfortable and work both on and off the motorcycle. I highly recommend them for local or cross-country motorcycle riding!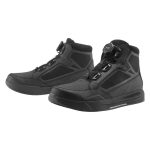 Icon Patrol 3 Boots Description:
Modern aesthetics and durable yet comfortable construction come together in the Patrol 3 WP CE Boots. Thanks to the textile and TechTuff upper and the eVent waterproof breathable boot lining inside, your feet will stay dry and comfortable even when the weather gets messy. A hi-rebound foam midsole enhances comfort, while a reinforced midfoot shank provides additional structure. A BOA closure system allows for simple entry and exit and the premium rubber outsole is oil and slip resistant. The streets are no match for you in the Patrol 3 WP CE Boots!
Features:
Engineered textile and 1000D Polyester upper
eVent Waterproof lining
Oil-resistant & slip-resistant outsole
Hi-rebound EVA foam insole
BOA lacing system with micro-adjustable dial, strong lightweight laces and low friction lace guides
D3O ankle insert
Reinforced shifter overlay
Tested & certified according to EN 13634:2017 level 1 WR SRA
HELP SUPPORT US! JOIN THE BIKER REVOLUTION! #BikerRevolution #LawAbidingBiker #Bikaholics
🛒SHOP IN THE LAW ABIDING BIKER STORE 🛒
😎BECOME A MEMBER AND GET BENEFITS 😎
📹GET PREMIUM MOTORCYCLE TUTORIAL VIDEOS 📹
🎬WATCH OUR MOTORCYCLE DOCUMENTARY FILMS HERE🎬
📱SHOP OUR AMAZON RECOMMENDED PRODUCTS 📱
🎙CHECK OUT THE WEEKLY PODCAST 🎙
Join the Free Email Club!
If you appreciate this free information make sure to join the thousands of law abiding bikers that have already joined the free Email Club! You will be notified of new useful motorcycle content and techniques as we put them out. Join the Community now!
Icon Patrol 2 Boots-Motorcycle Riding Shoes
Summary
Overall, I love the protection, look, the functionality of the Icon Patrol 3 Boots. They are very comfortable and work both on and off the motorcycle. I highly recommend them for local or cross-country motorcycle riding!
My only complaints are that they did not carry over the heel loop for pulling the boots on from the past model. This should be standard on riding shoes like this. Also, the tongue gutters could come up a bit higher to channel rain away from the inside of the shoe.