A Video by Bikers for Bikers: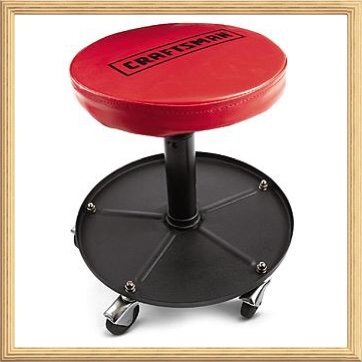 VIDEO/TUTORIAL/REVIEW: We are always looking for new things to spruce up the Law Abiding Biker® Podcast & Media garage/shop where we work on and film many of our free tutorial videos and our popular for purchase videos. We have wanted mechanics style adjustable rolling mechanics stools for some time to sit on in the shop when a motorcycle is on the motorcycle lift table. They can be so expensive depending on which logo is printed on them.
If you find this Free Video and review useful, please consider purchasing any items through our Amazon Affiliate Link at no additional cost to you.
Pricing a Harley Davidson mechanics stool online is around $80  . Love the HD stool, but it looks like so many other swivel mechanics stools and I'm sure it is basically the same. We did not want to pay for the HD logo, but just to get started with mechanics adjustable rolling shop stools.
I was walking through the Sears and stumbled upon some Craftsman Adjustable Mechanics Rolling Swivel Stools for $34.99 each. They looked exactly like the Harley Brand stools. I mean really, how much is there to these mechanics stools?
So, I finally broke down and bought two of them for the shop and they required almost no assembly.  In the video we also review the stools as I do in this article.

Pros: These stools are solid and built well. There is no risk of collapse or tipping over under normal use. The seat swivel mechanism is surprisingly smooth and solid. It is quiet and makes no noise when swiveling. They adjust up and down and it is smooth with a handle just under the seat for this adjustment. They have 5 caster wheels, which roll nicely on the concrete garage floor. I was very delighted with the overall quality and build of these bar stools. The price point is right for bikers that want to add mechanic stools to their shop or garage.
Cons: I will tell you that the cushion is very thin and there is not much padding. Now, does this hurt me to sit on? Absolutely not, especially since we will be working on motorcycle maintenance projects while sitting on them. We are always getting up to get tools etc.
Additional: This adjustable mechanic's seat adjusts up and down on a pneumatic cylinder to your desired height between 14-1/2 and 19-1/2 in. via a simple hand lever, leaving you more time to comfortably focus on your task at hand. The tool caddy below lets you travel with your tools, cutting down on unnecessary scooting time and increasing your productivity in the shop.
PRODUCT OVERVIEW:
A simple lever lets you adjust your seat from 14-1/2″ to 19-1/2″
Powder-coat finish prevents rust…
 I also purchased two of these Husky Husky Brand Bar-Shop-Garage Swivel Stools a while back for other shop uses and did a complete tutorial and review video of course.
Craftsman Adjustable Rolling Swivel Mechanics Seat Stool
Summary
These stools are solid and built well. There is no risk of collapse or tipping over under normal use. The swivel and lifting/lowering mechanisms are surprisingly smooth and solid. It is quiet and makes no noise when swiveling. The stool rolls smoothly across a garage concrete floor. I was very delighted with the overall quality and build of these mechanics stools. The price point is right for bikers that want to add stools to their shop or garage. I would bump up to to a five star is they were softer