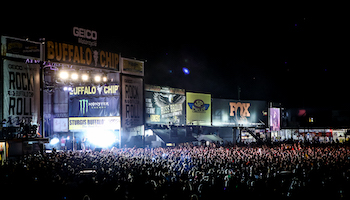 This article is written by Richard Kane, "Big Daddy Kane" or "BDK", as many of you know him as.
Since the very first motorcycle was built, motorcycles have enacted a passion in people. Whether it is the thrill of the ride, the sense of adventure or just the feeling of getting away from the norm from time to time people have enjoyed the two-wheeled wonder. Equally, music does the same for people and I believe music and motorcycles go hand in hand as they say. Please note, these are not my top ten favorite songs to listen to while riding. This is a list I put together based on several factors. The factors include impact, age, and genre.
Music, even since the early days of motorcycling has been a part of the culture in my opinion. Concerts at rallies, listening to music while riding, or just stopping by a small bar with a local band playing cover tunes while out on a day ride are common. From the British mod subculture, to American war veterans, to the chopper culture of the 60's and 70's, then the 80's comeback of H-D with a huge tie to southern rock music has always been an influence. My list below is not in any particular order and you may, or may not agree. In our Private Patron Member Only Facebook Group, we often discuss different music topics. Again, showing a very close relation to music and motorcycles.

With this article, I am hoping to spur discussion and we will even discuss this in an episode of the Law Abiding Biker Podcast. To acquire this list I have done many hours of research. As a music fan that has over 150 vinyl records, 200 CD's and thousands of digital downloads I was careful to focus the list on the impact the band, and song has had on motorcycle culture. Some songs are obviously for the older generations, but others will no doubt influence the younger riders. For example in Sturgis this year I witnessed two "clubbers" of different generations ride past me. One, an older man wearing common biker wear such as jeans, boots, and a vest. Blaring from his Ultra was classic southern rock as he pulled into the clubhouse off of Main St. Soon after him came a younger member wearing long shorts and high tops. Booming from his stereo was modern rap/hip hop. It's obvious music tastes have changed among riders.
#1-Born to Be Wild by Steppenwolf- This is an easy one and if not included in this list I believe the validity of the list in general is compromised. "Get your motor running" is the first thing that comes to mind with this song. I personally saw Steppenwolf at a rally in 1996 and the men and women in the crowd went nuts. The song is a common anthem and while Steppenwolf as a band is not one of my favorites the impact of the song makes it a must have on this list.
#2-Sympathy For the Devil by The Rolling Stones– This classic from the American blues inspired band is a classic. This band has spanned from the 60's where the mods favored rockabilly, early rock and roll, motorcycles and leather jackets to today. The Rolling Stones inspired many British and American kids alike. The song tells a tale of history from the Russian Czar to an American President. A favorite of many motorcycle riders the song is one that allows you to lean back and just cruise.
#3-Rambling Man by the Allman Brothers Band– Can you really have a list such as this without these southern rock icons. Greg Allman, often considered one of the top guitarists of all time, passed away too soon. This classic just soothes getting out on the open road to enjoy the adventure waiting ahead. It brings to mind getting on the bike with minimal plans or expectations and letting the day, and ride be in charge. Like many bikers we do not like to stay in one place on our rides. Ramble on riders!
#4-Free Bird by Lynard Skynard– Try going to any motorcycle rally without hearing this song! Lynard Skynyrd has become an icon of rallies and I can tell you after seeing them live in Sturgis in 1999 I became a bigger fan. The song inspires you to be free, ride and enjoy the moment. Riders of several age groups can't help to sing along whether it's at a concert, in a bar, or even on their bike. Considered by many the quintessential motorcycle song.
#5-Highway Song by Blackfoot– This song just conjures up the thoughts of being on the road, probably alone, and letting the highway lead you to your destination even though you may not know where you're going. The song is long, yes. But, imagine you and hundreds of riders singing along at the same time while you have your arm around your gal. An ode to the highway and the adventures it brings.
#6-Wherever I May Roam by Metallica– This classic by Metallica is an ode to touring the road as a band, but is easily applicable to motorcycle riders. For those in their 40's we remember Metallica very well and the lyrics speak to them. Just like Highway Song for those in their 50's and 60's this song is easily their equivalent anthem. When the guitars of Kirk Hammet hit you in the gut you just have to play air guitar as the cruise control takes over the throttle.
#7-Girls, Girls, Girls by Motley Crue– This is definitely one of my favorites for this list. Yes, the song is about gentlemen's clubs, but anyone who has seen the video knows it is definitely a motorcycle song. The four bad boys of rock and roll cruising the Sunset Strip riding their Harley-Davidsons is branded in your memory. The add-in sounds of a Harley-Davidson in the song itself is a clue. This song comes on and you twist the acceleration of the throttle whether you want to or not. Motorcycles, beautiful women and cool rockers!
#8-Copperhead Road by Steve Earle- A motorcycle favorite. Earle's ode to his fictitious father being a moonshine runner, his going to Vietnam and coming back and being a runner of a different type is a classic. I have met Earleseveral times. He is a kind man who is insanely creative. After prison, his sound changed to more of a folk one, but his passion for music never faded. I never asked Earle if he rides, and even if he doesn't it would not matter. Motorcyclists of all generations love this song.
#9-LaGrange by ZZ Top– ZZ Top is notorious for their classic car passion. But that passion definitely carries over to motorcycling as well. This song is such a classic it has been included in many motorcycle inspired compilations. Many artists including one of my favorites, Jamey Johnson have covered this song. It's not necessarily about cars, or motorcycles, but bikers sure love it.
#10-My Generation by The Who– Maybe a controversial pick, but the kings of British Mod Culture had to be on the list. I would have loved to have been in Britain during this time. Getting dressed, riding to get your date for the night who for sure was wearing a mini-dress and high boots with enough hairspray to keep her hair from ever getting messed up in the wind. The Who and this song had a lot of influence on the mod riders of the time.
Honorable Mentions:
Some songs below could have made the top ten. Here are some of those;
Sister Christian by Night Ranger– A biker favorite for sure. The tune goes from a slower pace to a slight and then sudden increase as the drums kick. It just makes you want to let go of the handlebars for a moment and play air drums. An ode to the drummer's sister who was graduating high school has not only become a huge classic, but a biker favorite.
Bawitdaba by Kid Rock-Those in their 40's remember this tune well. The combination of R&B, Rock, Metal and Rap all while motocross riders are jumping their bikes over the stage filled with cool rockers and hot women. All while wishing you could be Kid Rock for just one night. When this song comes on while you're riding you can't help but bob your head up and down to the beat.
Running With the Devil by Van Halen– Ok, seriously who doesn't have this song in their playlist? This tune will inadvertently make you twist the throttle and increase your chance of a ticket in ten-seconds flat. A favorite of young and old bikers alike.
This Life by Curtis Stinger-The theme song of Sons of Anarchy is notorious. It is a great song. In fact all four soundtracks are really good. I love Perry Ferrel's version of Sympathy of The Devil on one of them. At the time this show was huge. Some people may look back now and mock it a bit, but in reality it had pretty good writing, stars that played the part's well and there is no doubt it inspired younger riders to get a motorcycle and ride. The T-bar'd Dyna with the fairing was basically built from this show and really influenced companies and custom makers for years.
Hicktown by Jason Aldean– Ok, I admit this is one of my inputs. Lots of country music loving riders out there. This song just hits you in the gut with its rock inspired country undertones. When this song comes on when I am riding I cannot help but think of being on a bike riding out to the Saturday night bonfire to see my friends and hopefully meet a lovely lady who wants a ride.
Train, Train by Black Oak Arkansas-This is my last input to this article. A southern rock classic that is common on many southern rock and motorcycle inspired compilations. Bikers love this song and it has a great rhythm to it. Yes, easily a .38 Special song or even If You Want to Go To Heaven by The Ozark Mountain Daredevils could easily be here in it's place. But, we have to end the list at some time.
Well that is it. You may agree on most, all, or none of these pics. Again the goal was to pick songs that influence riders of all genres, age groups and styles. I look forward to your input. Most importantly ride safe and often.
Join the Free Email Club!
If you appreciate this free information make sure to join the thousands of law abiding bikers that have already joined the free Email Club! You will be notified of new useful motorcycle content and techniques as we put them out. Join the Community now!