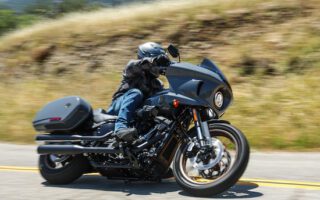 Harley-Davidson recently flew me to Santa Barbara, California to test ride and review the 2022 Low Rider ST. Understand, Harley-Davidson paid for the flights, meals, and lodging. However, no contract was mentioned or signed and I was never told what I could or could not say, so I will give you an unbiased real-world biker review as always. (video at bottom of the article)
I'm going to give you a real-world biker review of the new
2022 Harley-Davidson Low Rider ST
. Oh, and in case you're new to Law Abidin Biker, I'm a full-time Police Motorcycle Officer and Instructor. Additionally, I have multiple bikes and put on many miles off duty on both street and off-road adventure rides.

Now, I actually own a 2016 Dyna Low Rider S and after that year it was moved to the Softail frame. My 2016 has the Screamin' Eagle Twin Cam 110 ci engine and it is a ripper and so fun to ride. I looked forward to how the new 2022 Low Rider ST would handle and feel like with the Milwaukee-Eight 117 cubic inch engine.
I learned many things about the Low Rider ST from the Harley-Davidson Reps, so I think we should talk about where the Low Rider ST spawned from. You see, in recent years Harley has been paying much attention to the ever-changing demographics of Harley riders. Harley spotted a trend and was seeing riders, especially in Southern California, tweaking the Low Rider S by Increasing engine displacement, changing suspension, adding bags, and even fairings, just to name a few.
Armed with that information Harley-Davidson set out to create a base model bike that was all of the aforementioned things, but yet came that way out of the box so to speak. Thus, the Low Rider ST was born and came into existence with special care taken as to how it looked and rode. The overall design was inspired by the iconic 80's FXRT.
I reviewed the Low Rider ST from the perspective of the average everyday biker out there and I'll tell you what you actually need to know about the bike, which has caused much stir and grabbed a lot of attention within the motorcycle community There are so many pre-orders that so this bike hardly ever makes it to the dealership floors.
The 2022 Low Rider ST is super fast and nimble. I really enjoyed dragging the footpegs through the twisties. I liked the fairing and the vents it had in it. The fairing created a wind tunnel around me and minimized buffeting. The Low Rider ST is capable of touring, but you can easily remove the bags to give it a stripped-down look while riding around town.
There were a few negatives I found, and admittedly they are a bit nit-picky. First, the right saddlebag is shorter than the left to accommodate the dual exhaust. In my opinion, it aesthetically detracts from the look of the bike from the rear. This issue would not keep me from buying this bike though. Second, as a touring bike, I think the Low Rider ST should come from the factory with some sort of crash bars. There are crash bars available from Harley-Davidson.
Now here are some of the 2022 Low Rider ST specifications:
DIMENSIONS
19 inch front wheel

16 inch rear wheel

Fuel tank – 5 gallon

Weight – 721 pounds

Luggage capacity – 1.9 cubic feet

The right side bag is smaller to accommodate the exhaust
ENGINE
Milwaukee 8 – 117 V-Twin

103 horsepower

125 foot-pounds of torque

47 mph estimated city/highway

2-into-2 offset shotgun exhaust
TRANSMISSION:
CLUTCH:
CHASSIS
Front – Single cartridge 43 mm inverted with aluminum fork triple clamps; single rate spring

Rear shocks – coil-over monoshock; 56 mm stroke; hydraulic preload adjustment

The rear of the bike was slightly raised to improve the lean angle

Wheel type – Dark bronze, Radiate cast aluminum wheel

Brakes – Dual front and single rear disks
ELECTRICAL
LED headlight and taillight

Gauges – 2.14 inch viewable area LCD display with speedometer, gear, odometer, fuel level, clock, trip, range and tachometer indication built into the handlebar clamp

Available inner fairing audio kit $1,000

Bluetooth connectivity only

No head unit

Bluetooth Amplifier and two 5 1/4 inch speakers with separate 1″ tweeter

Use an App called Harley Davidson Audio
RIDER SAFETY ENHANCEMENTS INCLUDED
UNIQUE FEATURES
Cruise Control

Frame-mounted fairing

Designed it with side vents and made it very aerodynamic for performance

Removable compact saddlebags
PRICING
Vivid Black – $21,749

Gunship Gray – $22,199