Podcast: Play in new window | Download | Embed
Subscribe: Apple Podcasts | RSS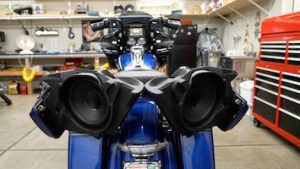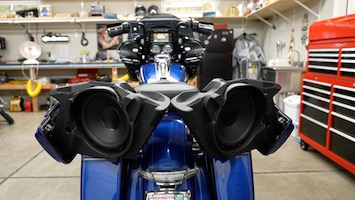 In this podcast, I'm joined by Lurch and we discuss and review the complete Harley-Davidson Audio Powered by Rockford Fosgate system we installed on a 2015 Harley-Davidson Road Glide Special. The system consisted of two amplifiers, fairing speakers, saddlebag lid speakers, and two 10-inch subwoofers. We discuss the pros and potential cons of this system so you can decide if it, or part of it, is for you.
The first thing to note is we tested the system with a decibel meter and it hit at and above the level of other premium systems we installed in the past. Keep in mind that motorcycle audio differs greatly from car audio. In a car, you're in an enclosed space with the speakers. On a motorcycle, the audio is going out to your environment, and at higher speeds, you're leaving the sound of rear speakers behind you. With that said the saddlebag lid speakers are designed so the speakers are pointed at the rider which may help a bit at highway speeds.

So, let's talk specifically about the subwoofers. They are very loud when stopped or at low speed in town. I was honestly supposed how much sound/bass they produced considering the small enclosures and limited air movement. Harley-Davidson did an excellent job of designing the woofers. They slide in and out of your saddlebag easily so you can have storage room when needed.
The system is controlled through an App that allows you to adjust the sound in much finer detail than the Boom Box head unit alone. You can adjust the volume of the subwoofers independently from the other speakers. There are several preset EQ curves and the availability to create a custom EQ curve. We found the Highway EQ curve helped to hear the sound at freeway speeds because it focuses on the high and mid-range sounds. The Boom Box GT units require a flash from your local Harley-Davidson dealer. The GTS units however do not require a flash.

Our final thoughts are this system is well-built with quality components. It is as loud or louder than the other premium systems we've installed. The installation is essentially plug-and-play, and easy to install with our installation video. You won't be disappointed if you get the Harley-Davidson Audio Powered By Rockford Fosgate system.
NEW FREE VIDEO RELEASED:
Sponsor-Ciro 3D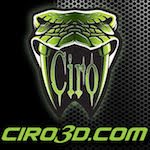 Innovative products for Harley-Davidson & Goldwing
Affordable chrome, lighting, and comfort products
Ciro 3D has a passion for design and innovation
Sponsor-RickRak

The Ultimate Motorcycle Luggage Rack Solution
Forget those messy straps and bungee cords
Go strapless with a RickRak quick attach luggage system & quality bag
Sponsor-Butt Buffer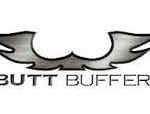 Want to ride longer?
Tired of a sore and achy ass?
Then fix it with a high-quality Butt Buffer seat cushion?
New Patrons:
Natasha Goolsby of Cape Girardeau, Missouri
Bowen Ragland of Elko, Nevada
Lita Teeples of Houghton Lake, Michigan
Jimmy DeSpain of Crestview, Florida
Randal Stewart of Las Cruces, New Mexico

Mark Lesher of Portland, Oregon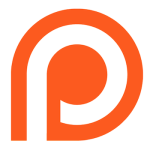 Vincent Cajano
Tim Stepp
Jerry Bryant of Green Valley, Arizona
Join the Free Email Club!
If you appreciate this free information make sure to join the thousands of law abiding bikers that have already joined the free Email Club! You will be notified of new useful motorcycle content and techniques as we put them out. Join the Community now!