Podcast: Play in new window | Download | Embed
Subscribe: Apple Podcasts | RSS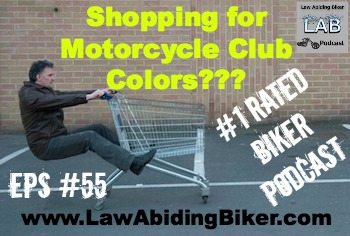 PODCAST-We dive into a situation the Sworn Few Law Enforcement Motorcycle Club "Big River" Chapter" recently ran into with a hang around. This hang around was secretive and was caught red-handed displaying another club's colors. However, he had not told anyone and was caught off guard when the photos and evidence were presented to him. The Sworn Few LEMC catches things like this , because they have very strict processes and procedures in place for hang around and prospective status. They are certain that they will not get a less than desirable member into the club and their processes proved to work once again. If you are one that is shopping for easy motorcycle club colors then just admit it and move on to the easy route. No hard feelings and you will save yourself time & possible embarrassment. Likely, you will not be proud of your easily obtained club colors, but each to their own. It's hard to be proud of something you didn't earn through hard work and dedication.
Want to call us and get your topic on the show or leave us feedback?
The Sworn Few LEMC absolutely has minimum time periods for hang around and prospective status. They have many protections in place and conduct thorough ongoing background checks. They monitor what hang around and prospects are doing at all times. They will meet your wife and family and will know everything about you. They will know more about you and your life than your own law enforcement agency you work for does.
It is not enough that you are a law enforcement officer. That simply means the SFMC "may" look at you if you request membership. They don't and will never recruit for members. They are tight and only those that really want to be a Sworn Few LEMC member will make it. Every law abiding biker club should absolutely take bringing on new members extremely serious. It is the one thing that can save your club from disaster. We have all heard and observed clubs falling apart and members leaving, because of one or two bad apples. Don't let this happen to your club. Stop it before it every ever happens.
If you want to learn more about the processes involved in starting a Sworn Few LEMC Chapter or becoming a member you can listen to Episode #33 of the podcast. That is where we refer all requests when they first come in.
---
Need a motorcycle cell phone or GPS mounting solution Bikaholics?

That's right, Law Abiding Biker Media put our logo on these mounts & we personally use them on our motorcycles!

The sexiest, lightest, and strongest mounts available period.
Good prices and fast shipping from our store?
Check out our COMPLETE REVIEW
New FREE Video: Harley Davidson Hammock Heated Rider and Passenger Touring Seat | Complete Guide & Instructions
CharlesPenner of Calgary, Alberta

A complete guide to Ethanol Free Fuel Pumps
Web Comment:
I have a 14 Ultra LTD that was an October 13 build bike that I just bought. Looking at the Boom Box tutorial. I see three different ones. Is there one that covers all the boom box, nav, etc updates?
MY RESPONSE:
Joe:There is the touch screen Boom Box (6.5GT) and the smaller non-touch screen model (4.3). They work exactly the same except on the 4.3 you can't touch the screen and have to use the soft buttons along the side. On both you can use the control sticks located on the control clusters on both handlebars. So, yes the video will teach you how no matter which one you have. Ride safe!
Boom!™ Box Infotainment Video Links:
Want to support us Bikaholics? Need some awesome tech gear?
Check out all the deals at B&H Photo Video
Photography, Video, Computers, Audio, TV's & more!
Most the time they have the best prices then Amazon.
Fast shipping!
Where I buy all my tech equipment for Law Abiding Biker Podcast & Media!
No additional cost to you, but we get a small commission for each sale.
Email 1:
Alejandro Guevera of Hialeah, FL
Just donated $ to your site. I did this because I ran across your YouTube videos and followed thru on downloading your pod casts. You are doing a great job my friend on spreading knowledge and experience to the biker community. I love riding and truly enjoy reading and listening to anything regarding motorcycles. I am currently saving to buy my Harley Street Glide just like your 2014. Very sweet ride you have. Anyways, keep up the great job. Also, great interview with the gentleman from Mettle Alliance MC. I have a brother and sister both employed as paramedics here in the city of Hialeah, FL. I myself got hired to attend police academy for Miami-Dade, but unfortunately had to resign due to marital issues. Go figure, I got divorced after any ways (ironic). Hope Mettle Alliance starts up a south florida chapter soon. Keep up the great work and stay safe riding and most important at work. Thank you for making our nations street safe! God bless.
Send us a donation to help us out
Email 2:
Just wanted to say thank you for posting DYI videos. Although I do know my way around anything mechanical ,I am constantly searching for easier , less expensive ways to complete a job. I purchased your service video for the flhxs recently and it saved me time and lots of cash and I thank you for that. I do have a question regarding the saddlebag that came off. Here is the situation: Having spent over 7 years in the Army, PMCS is part of my daily routine when riding. Part of my routine, I check my bags to insure they are secure. I am not sure if you have heard of any problems with the quick release pins coming loose, but I have, so I check it every time i take off. I went to the dealership after the incident. They took pics and sent it up the chain to see if it would be covered. I just received a call back and was told the pics were to blurry and was asked to come back in today. Any thoughts on how to handle this matter if they deny my claim? Thank You for any help or advice y ou might have. I can be reached at the number below.
Follow up from Bryan:
Hey Ryan , thank you for your response.. Just got back from HD. They took more pics and inspected the other bag. The tech noticed both my release pins were missing the washers..long story short… I had to write a sworn statement saying I did not remove the washers… I should here back from them by next week .. I will keep you guys posted… Thanks again for your response ! Ride safe and God's Speed ! Bryan
Keep the rubber side down and the shiny side up!