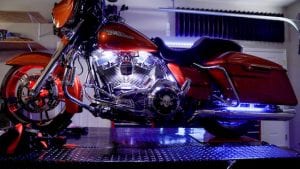 In this completely free tutorial video, we show you how to install a quality Ciro 3D Shock & Awe 2.0 LED Engine Kit on your Harley-Davidson motorcycle. I strongly suggest you add Ciro 3D Front Mounted Illuminators and Saddlebag Extension LED's to complete the look. You can add these additional items at the time of your purchase in the Law Abiding Biker™ Store if you choose. The basic Engine Kit LED's light your V-Twin motor. The Fork Mounted Illuminators light your front wheel and the Saddlebag Extension Kit LED's light the underside of your saddlebags and mufflers. It is a great overall look! This LED kit will fit any motorcycle with a 12-volt system. The kits are universal but in this video, we show you how to install it on a Harley touring model.
Beware: The market is saturated with cheap LED lights for motorcycles. I can tell you from experience that there is a great degree of variance in the quality of motorcycle LED lights. If you buy some cheap unknown brand LED lights from Amazon or eBay then you'll get what you pay for. No, they won't last and y0u'll be throwing your money away. Good luck getting one of those unknown sellers to refund you. On the other hand, Ciro 3D backs their products and offers support. They are actual bikers like us here at Law Abiding Biker™ Media.
The new Ciro 3D Shock & Awe 2.0 LED Engine Kit comes with a controller (brain) box and it has three separate channels. You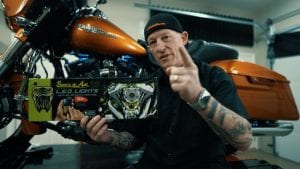 can hook up your Engine Kit LED's to one channel, your Front Fork Illuminators to another, and your Saddlebag Extension Kit LED's to the last channel. Within the free Ciro 3D smartphone app (IOS or Android) you can then individually control each zone/channel to make it a different color and/or perform different functions such as breath or flash! See our complete Ciro 3D smartphone app tutorial video below.

There are a ton of functions available when using the Ciro 3D smartphone app such as race mode, music mode, picture color mode, low voltage mode, and microphone mode. And it features 21 different functions such as colors, flash, breathe/fade, paint mode and more! The Engine LED Kit also comes with a control dial that you can mount in a convenient location. The control dial allows you to turn the LED lights on and off quickly and make minor adjustments on the fly if not using the smartphone app.

The is one of the highest quality LED kits for Harley-Davidson motorcycles and we use these LED's here on our own bikes at Law Abiding Biker™ Media. We have been running these LED kits for years on our bikes and while riding cross-country thousands upon thousands of miles through all kinds of weather and conditions and they're still working fine. The Ciro 3D Shock & Awe 2.0 LED's have been tried and tested in a real biker environment.
SHOCK & AWE SMARTPHONE APP TUTORIAL
FORK MOUNTED ILLUMINATORS INSTALL