Video-I installed and tested 3 of the best & most commonly known LED headlights for Harley-Davidson motorcycles in this video. I tested these motorcycle headlights in a real world biker environment. I filmed the results & am sharing my findings with you in this comparison video. There are an array of LED headlights for Harley's in the marketplace, but not all are that good. We all know the stock halogen headlights on Harley's lack in brightness, but there are exceptions depending on what Harley model you get. Some models are coming with Harley Daymaker LED headlights now.
The 3 Harley LED Headlights I Tested:
Note: Affiliate links below. No additional cost to you. Click through and make a purchase. It helps support us.
**Listed in order of my favorite to least favorite based on my real world testing**
VISION X XMC 7″ HEADLIGHT LED (By Ciro 3D) ($420)

Also, comes in 5.75″ ($400)
Black Chrome or Chrome Versions
Also, comes in two set for Harley Road Glides! ($760)

HARLEY DAYMAKER PROJECTOR LED HEADLAMP ($525)

Also, comes in 5.75″ ($400)
No affiliate link offered

KURYAKYN PHASE 7 LED HEADLAMP ($270)
Note: A wiring adapter plug is needed if going from stock 2 plug Harley halogen headlamp to a single plug LED headlamps such as the Ciro 3D Vison X or the Kuryakyn Phase 7. It is your responsibility to make sure you get the correct wiring adapter. These wiring adapters basically convert the two plug stock Harley halogen headlight to a single plug LED headlight plug. This information is just for guidance.
Adapter Harness for Ciro 3D Vision X LED Headlight (from our Official Store)

If converting from a stock Harley-Davidson 2 plug halogen headlight to a Vision X LED headlight, you'll need a Vision X LED Headlight Wiring Adapter.

Kuryakyn Phase 7 LED Headlamp Adapter Harness For Harley Touring / Trike 2014-2017

2014-Up FLHT & FLHX Touring & Trike models will require the additional purchase of a Kuryakyn Headlamp Adapter Harness.
Additional Information:
#1-VISION X XMC 7″ HEADLIGHT LED (By Ciro 3D)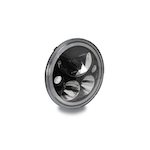 The Ciro 3D Vision X is my favorite and came in first place for many reasons. I really like the look of the headlight when off & it looks even better when on! It has a very nice integrated glow ring around the actual headlight that has a really bad ass look. The other headlights I tested lacked this additional integrated LED glow ring. It comes in both 7″ and 5.75″ models in colors black/chrome and chrome. It also comes in a two set for Harley Road Glides!
The Vision X LED Headlight is priced at $420, much less than the Harley Daymaker at $525. The best part is that the Vision X outperforms the Daymaker at a lesser price. The Vision X is especially impressive in high-beam mode. It produces a more white, thicker, wider, & brighter light than the Daymaker. You'll want to watch my video to see what I'm talking about. Here is what Ciro 3D says about it.
Light the night with this superbright and durable LED headlight from Vision X. Glow ring is integrated and the light is backed by a lifetime warranty!
#2-HARLEY DAYMAKER PROJECTOR LED HEADLAMP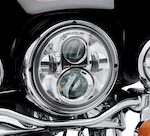 The Harley Daymaker LED headlight is the most expensive and way overpriced. Well, because that's standard practice for Harley. Don't get me wrong, it's a great headlight & I doubt anyone would be disappointed with the performance. It came in second place in my testing. Here is what Harley says about it.
Cut through the night. Harley-Davidson® Daymaker™ LED Lamps are brighter and whiter in color and provide a superior light pattern over standard incandescent lamps. Compared to the yellow light of a traditional halogen bulb, the LED lamp produces a daylight color impression that appears more natural to the user.
#3-KURYAKYN PHASE 7 LED HEADLAMP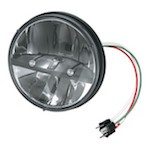 The Kuryakyn Phase 7 LED is a good LED headlight for Harley and comes in at a price way less than the Vision X and Daymaker at only $270. I ran the Phase 7 LED on my Harley Street Glide Special for several years before being introduced to the Vision X. I never wanted to pay Harley for their overpriced Daymaker. I even did a video review and comparison between the stock Harley headlight and the Phase 7 LED.
I liked the Kuryakyn Phase 7 and it is way brighter than the stock Harley halogen headlamp. It is more of a budget LED headlight in my opinion for those that want a brighter LED headlight on their Harley, but can't spend too much money. It'll definitely be a step up.
However, the Phase 7 just can't compare when tested against the brightness of the Vision X and Daymaker. So, in the case of these Harley LED headlights, it seems that more money does buy a brighter LED headlight.
**Please support us if you appreciate our free videos and information by purchasing a Vision X LED Headlight for Harley in the Official Law Abiding Biker Store!
Video-Compare Kuryakyn Phase 7 LED Vs. Harley Stock Headlight-Install, Review, Guide