Podcast: Play in new window | Download | Embed
Subscribe: Apple Podcasts | RSS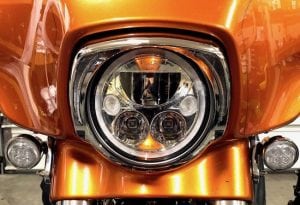 We have tested many LED headlights for Harley-Davidson and Indian motorcycles over the years and continue to do so. I did an LED headlight comparison article & video on our YouTube Channel some time ago and you should check it out.  There are many resources in that article.
There are an array of LED headlights for Harley & Indian motorcycles in the marketplace, but not all are good quality. We all know the stock halogen headlights on Harley's lack brightness, but there are exceptions depending on what Harley model you get. Some models are coming with Harley Daymaker LED headlights now.
One of the first things we do on our Harley's here at Law Abiding Biker™ Media is to install an LED headlight. This is a safety issue. LED headlights will not only let you see road hazards faster at night, but they will allow other motorists to see you better during the day.
Listen in to this podcast episode to get in the know about LED headlights for your Harley or Indian motorcycle.
The Harley LED Headlights I Tested:
Note: Affiliate links below. No additional cost to you. Click through and make a purchase. It helps support us.
**Listed in order of my favorite to least favorite based on my real world testing**
VISION X XMC 7″ HEADLIGHT LED (By Ciro 3D) ($420)

Also, comes in 5.75″ ($400)
Black Chrome or Chrome Versions
Also, comes in two set for Harley Road Glides! ($760)

HARLEY DAYMAKER PROJECTOR LED HEADLAMP ($525)

Also, comes in 5.75″ ($400)
No affiliate link offered

KURYAKYN PHASE 7 LED HEADLAMP ($270)

RIVCO LED LIGHTING (bulb replacement option)

Replaces your factory H4 Halogen bulbs
Super-bright 3000-lumen output
New Free Video:
Sponsor-Ciro 3D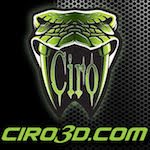 Innovative products for Harley-Davidson
Affordable chrome, lighting, and comfort products
Ciro 3D has a passion for design and innovation
Sponsor-RickRak

The Ultimate Motorcycle Luggage Rack Solution
Forget those messy straps and bungee cords
Go strapless with a RickRak quick attach luggage system & quality bag
New Patrons:
Andy VanVeen of Sierra Vista, Arizona

Billy Tidwell of Decatur, Alabama

John Smith of Crum, California

Ralph Cadle of ???? (email sent)

Johnny Manning of Bakersfield, CA

Joe Cassell of Manitou Beach, Michigan


Join the Free Email Club!
If you appreciate this free information make sure to join the thousands of law abiding bikers that have already joined the free Email Club! You will be notified of new useful motorcycle content and techniques as we put them out. Join the Community now!