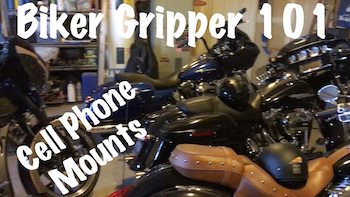 The Biker Gripper is the absolute best motorcycle cell phone mount on the market and has been for years now. Use it to mount your cell phone, GPS, EFI tuner device, radar detector, or toll transponder to your motorcycle. It is the sexiest, sleekest, and strongest mount in the world and made in the USA!
Bikers around the world are raving and glad to give 5-star ratings and reviews about the Biker Gripper in the Law Abiding Biker™ Store. Don't forget we have the Biker Gripper GoPro mount too, which is the best solution to mounting your GoPro action camera to your motorcycle.
In this video, I was at a meeting and there were numerous motorcycles with Biker Gripper mounts on them. We had Harley-Davidson, Victory, Indian, and Yamaha represented! I walk you around each of these bikes and show you the possibilities when it comes to mounting a Biker Gripper and your cell phone to your motorcycle.
We have black & chrome Biker Grippers available depending on your taste. We have control mount kits for replacing the pinch bolts around your control cluster on American or Metric bikes. We also have our Universal Biker Gripper mount system for simply clamping around any standard size handlebar.
You can mount the control mount system right side up or upside down depending on the height of your handlebars. I show you several bikes with ape hanger handlebars, both 13″ and 16″. The options are endless.
On a newer stock Harley Street Glide, you will likely want to only consider the control mount system. That is because newer Harley Street Glides have hydraulic clutches. So, you end up with a clutch reservoir on the left side and a brake reservoir on the right side. This leaves very little room on the bars to mount a universal mount and you may not be able to position the gripper head, so you can see your device straight on.
On a newer Harley Road Glide with a hydraulic clutch you are fine, as the stock handlebars have plenty of pull back and room for a universal mount Biker Gripper, should you choose that option.
Note: Newer Victory motorcycles do not use the standard control mount clamp and pinch bolts around the handlebar control clusters like you see on many other motorcycle brands. For that reason, you'll definitely want to go with the Biker Gripper universal mount system and there is plenty of exposed handlebar to do so with plenty of room for adjustment.