By Bikers For Bikers!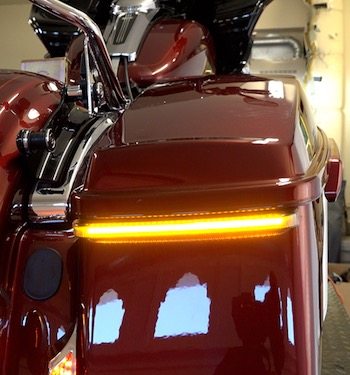 In this completely free tutorial video, we show you how to install Ciro 3D Bag Blade LED run/brake/signals on your Harley-Davidson touring motorcycle. From the install to getting everything plugged in correctly, we have you covered.
The Ciro LED Bag Blades are one of the cleanest ways to add light to the back of your bike. The low profile light housing sits right below the lid of your bag to blend seamlessly into the back of the bike. The Bag Blades® feature super-bright run, brake, and sequential amber turn signals to be sure you are seen day or night.
Safety and visibility at the rear of your Harley-Davidson are very important and Bag Blades can provide that additional lighting that catches the attention of that motorist behind you texting and not paying attention. That's a reality and you may not get a second chance if you get rear-ended on your motorcycle.
Mentioned in video for rear brake strobe patterns: (affiliate link)
Join the Free Email Club!
If you appreciate this free information make sure to join the thousands of law abiding bikers that have already joined the free Email Club! You will be notified of new useful motorcycle content and techniques as we put them out. Join the Community now!