A Video by Bikers for Bikers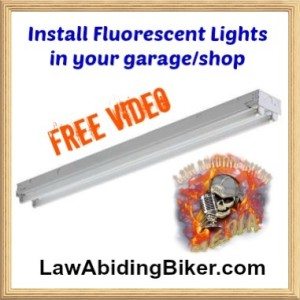 VIDEO/TUTORIAL/REVIEW: We are always looking for new things to spruce up the Law Abiding Biker® Podcast & Media garage/shop where we work on and film many of our free tutorial videos and our popular for purchase videos. We have wanted better lighting for filming and to see what we are working on.  We only had regular light fixtures with four 100 watt bulbs. The light was dim and spread out. It did not have good coverage and we had to use many filming lights for production value.
I had put this project off for some time as we have been super busy. We were setting in to film some major motorcycle tutorial videos and I finally got it done.
I purchased four Lithonia general purpose fluorescent light strip fixtures part #P001834B and paid about $40 each with 2 bulbs included.  I was able to get the lighting direct and at a discount through a contractor I know. That means a total of four fixtures and eight bulbs were added to the shop.
In this free tutorial video I assemble, wire, and install Lithonia brand fluorescent lighting to the ceiling of the Law Abiding Biker® Media garage/shop.  Save yourself some money and do this project yourself.  I highly recommend putting good lighting in your garage or work area. We are super happy with the new fluorescent lighting. It makes filming  and working on motorcycles that much better.
Consider using our Amazon Affiliate link to purchase any fluorescent lights if you appreciated this video.