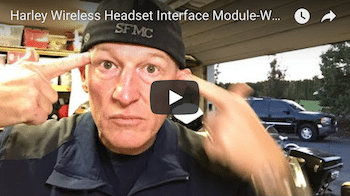 As of the date of this video, the Harley Wireless Headset Interface Module (WHIM) will not pair for "stereo" sound with any other Bluetooth headset except the Sena made Harley Davidson 20s headset. This means for wireless Bluetooth headset "stereo" sound from your Boom Box Infotainment System, you'll have to fork out more money and buy the Harley stamped Sena 20S headset. And you'll need to pay a dealership to "flash" your Boom Box system after install to get it to work.
GET A SENA FREEWIRE IN OUR STORE AND GET FULL STEREO SOUND WITH YOUR REGULAR SENA (NON-HARLEY) HEADSET WIRELESSLY AND GET FULL BOOM BOX INTEGRATION JUST LIKE THE WHIM:
BECOME A PATRON MEMBER AND GET BENEFITS: (Shirts, Stickers, Private Facebook Group, Premium Videos)
GET THE BEST HARLEY "WIRED" HEADSET SOLUTION FOR FULL BOOM BOX INTEGRATION HERE:
The WHIM will pair with other Sena wireless headsets not stamped with the Harley logo, but you'll only get terrible mono sound. The WHIM will also pair with some other brand wireless headsets, but you'll get the same "mono" sound result.
You will get full wireless headset Boom Box integration with any wireless Bluetooth headset you can get to pair with the WHIM. That means voice commands, turn-by-turn GPS directions, phone calls, music etc. Again, you'll only get "stereo" music sound if you buy the Harley stamped Sena 20S headset.
We have done extensive tests and are just sharing the facts with the biker community. Even if you go to the Harley Davidson Sena 20S and WHIM software update page and install that software into your regular Sena 20S headset not stamped with an HD logo, you still will not get stereo sound. There is nothing you can do except pay the Harley tax.
OFFICIAL HARLEY/SENA/WHIM/BOOM BOX SOFTWARE UPDATE PAGE HERE:
The best way to get full Harley Boom Box wireless Bluetooth headset integration and full stereo sound with your non-Harley stamped Sena Headset it to get the Sena Freewire. This is what we use here at Law Abiding Biker Media. It does everything the WHM does at a fraction of the cost.
GET THE SENA FREEWIRE HERE IN OUR STORE: https://shop.lawabidingbiker.com/collections/sena-headsets/products/sena-freewire-bluetooth-transmitter-for-harley-davidson-motorcycles


OTHER WHIM VIDEOS ON OUR YOUTUBE CHANNEL YOU MUST WATCH:
1. https://youtu.be/X5vqELUWVPY
2. https://youtu.be/OAfl_SJaMRs
If you choose to go with the WHIM, then this is what you'll need and what you'll have to pay for full stereo sound: (part numbers and links)
Wireless Headset Interface Module ($299)

(Part Number 76000768)

Wireless Headset Interface Module Harness ($49)

Part Number 69201726

Boom! Audio 20S Bluetooth Helmet Single Headset ($299)

Part Number 76000736A

Boom Box Dealership Flash ($50-$100)
Dealership Install of WHIM ($200?)
Join the Free Email Club!
If you appreciate this free information make sure to join the thousands of law abiding bikers that have already joined the free Email Club! You will be notified of new useful motorcycle content and techniques as we put them out. Join the Community now!