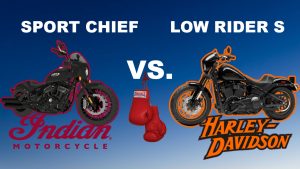 I saw that Indian came out with the 2023 Sport Chief and I said to myself, "hey, Indian made a Harley Low Rider S". Well, it's clearly their answer to compete with Harley in that category of bike anyways. I had to take a deep look at this bike and break it down for you and give you my thoughts. How does the Indian Sport Chief match up to the Harley Low Rider S? I really needed to know…..
I've seen some trying to compare the Sport Chief to the Harley Low Rider ST and I wholeheartedly disagree. I test-rode and reviewed the Low Rider ST last year in Santa Barbara, CA and it's more in the category of sport touring. It has a very large fairing and windshield, an available dash stereo system with speakers, and hard saddlebags. The Sport Chief is more in the category of a sport cruiser with a very small fairing and windshield, no in-dash stereo system or speakers, and no hard saddlebags, just like the Lowrider S. (See video below)

This video is not about the old Harley vs. Indian BS conversations. Honestly, those sorts of attitudes just muddy the real conversation and facts. Understand, that we ride Harleys, Indians, and other metric bikes here on this channel and support all makes and models of motorcycles. Remember, competition in the motorcycle marketplace is GOOD and benefits all motorcycle enthusiasts. It pushes companies to put out their best products.

We could really go back and forth on what things the Sport Chief or Low Rider S has that the other doesn't and price out adding a particular item or feature on. But, at the end of the day, we've found that if you make these bikes almost exactly the same with parts and features they are within a couple of hundred dollars of each other.
I love my Lowrider S, but I would not think twice about owning the Sport Chief if I had extra money to throw around. I really want to ride this bike and see what it's all about.
HELP SUPPORT US! JOIN THE BIKER REVOLUTION! #BikerRevolution #LawAbidingBiker #Bikaholics
🛒SHOP IN THE LAW ABIDING BIKER STORE 🛒
😎BECOME A MEMBER AND GET BENEFITS 😎
📹GET PREMIUM MOTORCYCLE TUTORIAL VIDEOS 📹
🎬WATCH OUR MOTORCYCLE DOCUMENTARY FILMS HERE🎬
📱SHOP OUR AMAZON RECOMMENDED PRODUCTS 📱
🎙CHECK OUT THE WEEKLY PODCAST 🎙