By Bikers For Bikers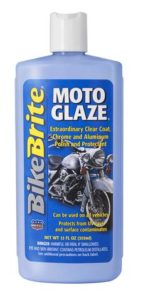 I get asked all the time, "Ryan, what's the best wax, polisher, and protectant to use on my motorcycle paint and chrome? We tested many motorcycle polishing products on many different motorcycles over time.  We're bikers just like you and we wanted to find out which motorcycle polishing product works best and what actually works for bikers in a real world environment. We did all the research and testing for you.
Without a doubt, I can tell you that Moto Glaze by Bike Brite is our absolute #1 go to polisher and protectant for all our motorcycles here at Law Abiding Biker™ Media. Moto Glaze is a motorcycle clear coat, chrome, and aluminum polisher and protectant. It goes on easy and comes off easy, leaving a very smooth protective coat and shine on your motorcycle! We believe in Bike Brite products so much that we brought them right to the Official Law Abiding Biker Store!
Don't forget that Bugslide is our #1 go to "waterless" motorcycle cleaner, polisher, and bug remover for in between those wet washes.
Join the Free Email Club!
If you appreciate this free information make sure to join the thousands of law abiding bikers that have already joined the free Email Club! You will be notified of new useful motorcycle content and techniques as we put them out. Join the Community now!