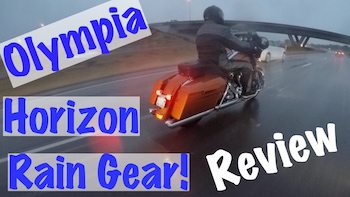 For those bikers/motorcyclists that truly ride hard, it becomes quickly apparent that quality motorcycle riding rain gear is a must. For those of you that only ride your motorcycle on sunny days to town & after checking the weather report, well then never mind.
I have many stories of new bikers, including myself many years ago, that head out on trips unprepared. I can tell you that it only takes one time of being caught unprepared in a cold rainstorm riding your motorcycle before you start researching quality motorcycle riding rain gear! Don't stand for cheap non-motorcycle rated rain gear. Trust me, I tried the regular old rain gear in the past and it failed miserably in many aspects.
**If you appreciate all our free videos and content, please consider supporting us by using the affiliate links below. No additional cost to you, but if you click through and make a purchase, we get a small commission.
GET OLYMPIA HORIZON RAIN GEAR HERE!
I thoroughly tested the Olympia Horizon motorcycle rain jacket and pants. Yup, we purposely went out in the pouring rain & cold on a 3 hour ride on my Harley Davidson Street Glide Special to test this gear. And I have used it many times since then while riding in the rain.
This Olympia Horizon rain gear performed extremely well & I am very satisfied with it. It is a permanent item in my saddlebags. It is super compact and both the jacket and pants have a self stuffing pouch. If I get caught in the rain I can quickly pull over, deploy the gear from their stuff sacks, and have it on very quickly.
I chose the black/pewter color. However, it also comes in black/neon orange and black/neon yellow. All models have 3M Scotchlite reflective material on them for high visibility. There are four sizes to choose from.
This gear is easily adjustable and easy to get on over other riding gear, even your boots. It has velcro, nylon, and cinch straps all over to get it on quickly over your other riding gear & sealed up before taking off down the road.
There is an additional stretch knit hood to put on under your helmet, thus sealing your neck and collar area from the elements even more. Or it can be kept in a collar hood pocket. There is also a stretch knit cover attached to the hood to put across your face/neck area.
When you're done with the Olympia Horizon rain gear just easily loosen all the straps and velcro. Once taken off you can have both the Olympia Horizon rain jacket and pants stuffed back in their sacks and stowed in your saddlebags in about a minute or so. It is peace of mind to know that I am always prepared wherever I go & don't have to take up a large portion of my saddlebags.
I really have nothing bad to say about the Olympia Horizon motorcycle rain jacket and pants. The gear has performed well over time & is a great value for the price . I stay perfectly dry no matter how hard it is raining or how far I ride my Harley.
By investing about $170 you'll be guaranteed to stay dry when riding your motorcycle and have rain gear that will be comfortable to ride in without binding you up like traditional rain gear. And you will have this rain gear for years to come as it is made of durable rip stop nylon & has a quality YKK zipper.
Features:
Unisex sizing
Outer shell constructed in sturdy light weight waterproof / breathable rip stop nylon
Back overhang detail with hidden mesh panel insert for improved breathability
Stretch knit hood with rubberized aqua barrier and neck gator concealed under collar
EZ-Pack Storage System – jacket can be stowed away in a self contained storage pocket located in the interior of the jacket
Double storm placket front closure
Adjustable VELCRO® brand closures closure straps at elbows and wrists
Slide buckles at waist plus shock cord bottom detail offer maximum adjustability
Two exterior waterproof pockets plus inside storage pocket
Micro fiber lined collar for added comfort
3M Scotchlite reflective piping at front and back plus oversized reflective screen print at side arms for enhanced visibility in low light situations
Cool mesh airflow lining
Join the Free Email Club!
If you appreciate this free information make sure to join the thousands of law abiding bikers that have already joined the free Email Club! You will be notified of new useful motorcycle content and techniques as we put them out. Join the Community now!