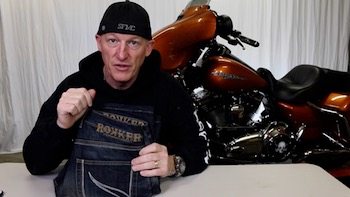 Video-Many of you Bikaholics out there wear traditional leather chaps to protect your legs from the elements and to give you some limited protection if you were to go down. There is nothing wrong with chaps if that's how you choose to roll. I just don't like the inconvenience of taking them on and off, the bulkiness, and the weight.
I am a rather progressive biker when it comes to equipment and I'm always looking for better things. Especially, things that have style to them and can protect me better than old school traditional motorcycle cruiser gear.
There are an array of companies now making protective riding jeans. They vary in the protective materials they use and in price. These jeans offer protection from the elements and offer so much more protection than chaps if you were to go down on your motorcycle.
In this video, I am focusing on the Rokker Red Selvage Jeans. The Rokker Red Selvage Jeans are made from heavy duty 13.5oz stonewashed selvage denim and feature an internal layer of 100% Schoeller-Dynatec fabric for extreme abrasion resistance. An added benefit of Schoeller-Dynatec is its water repellency and wind-blocking properties to keep you safe and protected from the elements. Rokker Red Selvage Jeans have a protective layer of 100% Schoeller-Dynatec running the entire inside of the jeans, which of course greatly increases the price.
In contrast, jeans such as the Drayko Drift Jeans, which I also reviewed, have protective Military+ Grade DuPont™ Kevlar® and DSM Dyneema® panels just in key areas of the jeans, which keeps the cost down.
The Rokker Red Selvage jeans full interior protective panels did keep my legs warmer than the Drayko Drift jeans limited lining (panels) during cold weather riding. Both jeans were about the same when riding in hot weather and they do breath a bit. They are hotter than regular jeans of course but totally bearable.
**Consider supporting us and purchasing Rokker Riding Jeans or any other products through our below affiliate links. No additional cost to you and it helps us out.
The R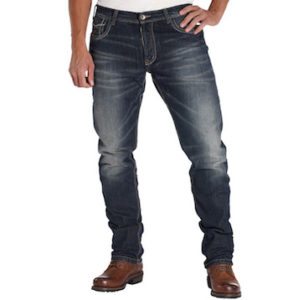 okker philosophy is style and protection without compromise, and the Rokker Red Selvage Jeans achieve both.
Note: We have found the Rokker Red Selvage Jeans to run small and suggest going up one size if you are between sizes.
Features:
Fits similar to a Levi's 510 or Diesel low rise jean
Low waist, straight cut with a slim fitting leg and button fly
Outer material made of the finest 100% cotton, stonewashed Red Selvage denim
Inner material made of 100% Schoeller-Dynatec
Schoeller-Dynatec is non-abrasive, wind resistant and water repellent
Constructed without rivets which could scratch the bike
Easy care (washable at 110° F, ironing after washing increases the water repellency)
Jeans ship in a wooden box with Rokker T-shirt
Join the Free Email Club!
If you appreciate this free information make sure to join the thousands of law abiding bikers that have already joined the free Email Club! You will be notified of new useful motorcycle content and techniques as we put them out. Join the Community now!