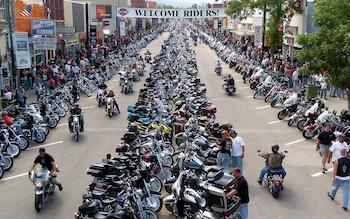 With COVID-19 keeping some bikers from attending the 80th Anniversary of Sturgis, it clearly didn't stop most. The SD Department of Transportation released attendance numbers based on traffic counts, which may surprise some who predicted low attendance numbers of only 250,000. (see video below)
The city of Sturgis uses traffic counts as part of its formula to calculate attendance each year. Other pieces include the amount of garbage removed over 24 days, as well as a formula that divides the downtown into sections to determine crowd sizes.

From August 7 through 16, 2020, a total of 462,182 people attended the event according to traffic counts from nine entry points. That's about 37,000 fewer than last year's 499,654, or a 7.5% decrease. It was an anniversary year for the Sturgis event and I think it's fair to say the numbers would have been much higher if COVID-19 was not in play. Attendance numbers on anniversary years are usually much higher. So, the 2020 event attendance numbers more closely reflect a standard event year.
Early reports from vendors show increased spending from attendees for 2020, although final numbers aren't available yet. Fewer attendees for 2020 were in the 60 to 70 age range, which is the age group that has been most vulnerable to COVID-19.

I personally spoke with many different vendors at the event who all reported to me that spending form
attendees was up and they were very pleased. Several went on to say that their sales figures were even better than during the 2019 Sturgis event. This means that although attendance was slightly down, the bikers that did attend were willing to spend money. This is all great news for the economy of Sturgis and surrounding areas that heavily rely on income from the event.
Other Information Released:
The Highway Patrol report of non-injury crashes was up slightly in 2020, with 50 crashes reported. In 2019, a total of 41 occurred. Crashes involving injuries were also up slightly, with 56 reported for 2020 over 52 in 2019. Fatal crashes doubled for 2020, with 4 crashes and 5 fatalities; in 2019, there were 2 crashes and 2 fatalities in total.
DUI arrests were down slightly for 2020, with 145 total arrests. For 2019, that number was 171 by the conclusion of the rally. Misdemeanor drug arrests were up, at 241; in 2019, that number was 213. Felony drug arrests were down slightly, at 126; the total for 2019 was 131. Total citations were most closely matched of all, with 1,334 issued for 2020 compared with 1,336 in 2019. Cash seizures were way up for 2020, with a total of $18,763; in 2019, police only seized $4,044 according to official reports.
Join the Free Email Club!
If you appreciate this free information make sure to join the thousands of law abiding bikers that have already joined the free Email Club! You will be notified of new useful motorcycle content and techniques as we put them out. Join the Community now!