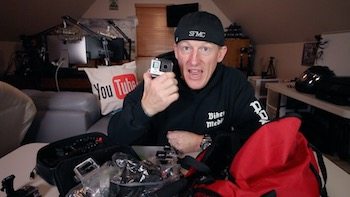 Video-I put out an article and video about a year ago on a serious audio issue that GoPro Hero 4 cameras have. At that time, I went through 3 defective GoPro cameras and chaos when trying to get GoPro to send me a camera that worked.
The problem is that many GoPro Hero 4 cameras have a thumping, helicopter, popping, or clicking noise in the audio file upon playback. This is a serious hardware issue and GoPro has ignored it for far too long. It only happens when you have the WiFi activated on the camera while recording. We have WiFi on, so we can use the iPhone app and remote controller.
Like many, we here at Law Abiding Biker™ Media are somewhat tied to our GoPro cameras because we've accumulated so many accessories over the years. It would be hard to start from scratch with a new brand camera, but we're about ready to at this point. We are buying another drone and this is exactly why we're not going with a GoPro Karma Quadcopter, we don't trust them much anymore. Instead, we're going with a DJI Mavic Pro. It's much better drone in my opinion anyways.
It had been a year since my last defective GoPro Hero 4 Silver camera purchase. We needed yet another GoPro to add to our collection for a current project.  Yup, I ordered another GoPro Hero 4 Silver directly through GoPro's website, against my better judgment.
The camera arrived at my door, and yes it had the same exact audio problem!  I was super disgusted and contacted GoPro, reminding them of my prior 3 bad camera debacle a year prior and giving them the link to my YouTube video. They could care less and wanted me to perform all kinds of tests and send them video files again. Nope, I'm not going to waste my time again, so give me a return merchandise authorization (RMA) immediately is what I told them. I returned the camera and got my full refund.
I knew there had to be an easier way………..
I then went to a local Best Buy Store and learned their policies, which is that if you bring a defective GoPro back within 15 days of purchase they'll immediately replace it with a brand new unit and they'll deal with GoPro. This takes you out of the mix and you can be back up and running, instead of performing all the tests, returns, and waiting for a new GoPro.
Here are my suggestions for purchasing a  new GoPro Hero 4:
Don't buy it online or from the GoPro website directly
Check with your local electronics store and find out their return policies
Buy it local if your electronics store has a favorable return policy
Test your new GoPro immediately to see if it has audio problems

If your camera is bad, go back and get a brand new one
I think that most consumers understand that any company can have manufacturing issues with hardware. Consumers will forgive that, but they will never forget how they were treated and how a company handled the issued.
This has been an epic failure for GoPro in customer service and satisfaction. There are many other action cameras out there that are just as good as GoPro and I know many have moved on because of this public relations failure.
The worst part is that GoPro is getting the returned defective cameras and then failing to test replacement units before sending them out to consumers. There are so many stories, to include mine, where GoPro sends a customer up to 4 bad cameras! Seriously, there is no excuse for that sort of customer service failure.
GoPro should have come out and publicly admitted to consumers that they had a large number of cameras in the field with audio hardware problems and offered to replace them immediately.
Another interesting point is that GoPro will tell you that there are a small amount of units affected. I find that to be false and misleading. You see, many GoPro consumers will never have a need for the audio portion of the camera and thus will never discover the problem. Many use GoPro's for video capture only. Then, there are those that don't use the WiFi and remote features, so they would not know there is a problem either. Those of us that need usable audio are the ones that are discovering the issue.
Go ahead GoPro and continue to bury your head in the sand………….
Join the Free Email Club!
If you appreciate this free information make sure to join the thousands of law abiding bikers that have already joined the free Email Club! You will be notified of new useful motorcycle content and techniques as we put them out. Join the Community now!