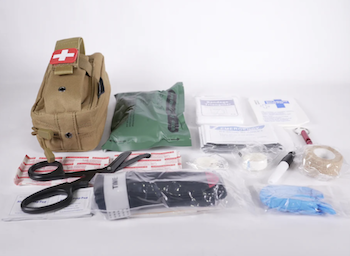 We put together the best and most compact motorcycle first aid and trauma kit. Let's face it, we should all be carrying a proper first aid kit while riding our street and adventure motorcycles. You should also be prepared for a mechanical issue and pack a proper compact tool roll. Check out the Law Abiding Biker Motorcycle First Aid and Trauma Kit. It even comes with a tourniquet. (See video below)
The Law Abiding Biker First Aid and Trauma Kit is ideal for bikers, outdoor enthusiasts, field tactical medics, police, military, combat lifesavers, first responders, and more! Be well-prepared for emergency situations while riding and during outdoor adventure, hunting, camping, travel, disaster, and accident.
The Law Abiding Biker First Aid and Trauma Kit is made for everyday carry. It is more compact and lightweight with all first aid essentials needed to stop massive bleeding and to save lives. The Trauma kit contains the most user-friendly and popular first aid supplies for hemorrhage control on the market, including a military tourniquet, tactical pressure dressing, and compression tape.
This First Aid and Trauma Kit is the perfect size to put in a motorcycle saddlebag/pannier, attach to a tactical vest, combat belt, or to rucksack with the MOLLE system, while providing easy access to all the essentials.
Size: 8″x4″x4″
Product Includes:
1 X Tactical EMT Nylon Molle IFAK Bag (8" x 4" x 4")

1 X Windlass Military Tourniquet

1 X Emergency Trauma Bandage (Pressure Dressing)

1 X Triangular Bandage

1 X Mini Size Permanent Marker

2 X Medical Tape

1 X Compression Tape

1 X Pair of Latex Disposable Gloves

1 X Medical Scissors

1 X Emergency Whistle

1 X Emergency Rescue Blanket

1 X Universal Bandage Pack (see below):

6 X Sterile Gauze Pad/Wound Pad

5 X Medium Knuckle Bandage

5 X Large Knuckle Bandage
5 X Large Bandage

5 X Medium Bandage

10 X Alcohol Pad
If you appreciate all the free content we put out, please consider supporting us by using our affiliate links below. No additional cost to you and if you do click through and make a purchase we do get a small commission. Thanks in advance.
ADD THESE APPROVED DUDE WIPES FLUSHABLE WET WIPES TO YOUR KIT: (we recommend mint chill; it's like a breath mint for your ass)