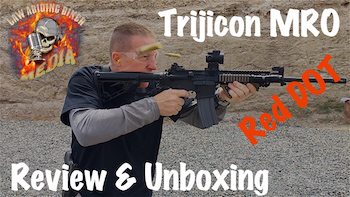 Video-In this free video I review and unbox a brand new Trijicon MRO red dot sight. I also purchased a quick detach system for the MRO & go over that. After unboxing the sight, I mount it to my Colt AR-15 rifle and show you how the system goes together.
Many of us law abiding bikers train with and carry firearms, so I like to do these videos when I get a chance, aside from our regular motorcycle related videos.
If you appreciate this free video and information, please consider supporting us by purchasing after clicking through our affiliate links (pics) below to purchase. No additional cost to you.
I have run an EOTech 512 on my rifle for many years and it's a solid red dot sight. However, it's bulky and uses double "A" batteries that drain often. In addition, the EOTech goes off after 8 hour and needs to be turned back on. I need a red dot sight to stay on at all times like the MRO does.  Also, my opinion is that the red circle around the red dot on the EOTech washes out a target when shooting at longer distances. I wanted a sight with only a single red dot.
I don't change things often on my AR-15, but after I learned of the MRO and its reasonable price point, I had to give it a shot. The Trijicon MRO offers everything many of the Aimpoint red dot sights do and more in my opinion. Aimpoints are also much more expensive than the MRO.
The MRO's 2.0 MOA red dot stays on up to 5 years on one CR2032 Lithium Battery. It has a wide objective field of view and the red dots intensity dial is on top and can be operated by either hand. The Trijicon MRO is a solid sight and small in size.  I fell in love with this site after shooting at the range with it.
Specifications: Trijicon MRO
Magnification: 1x
Objective Size: (mm)25mm
Length (in): 2.6 in.
Weight (oz): 4.1 oz (116g) with battery installed, without mount
Illumination Source: Battery
Reticle Pattern: Dot
Day Reticle Color: Red
Bindon Aiming Concept: No
Eye Relief (in): Infinite
Adjustment @ 100 yards (clicks/in): 1 click = 1/2 MOA
Housing Material: 7075-T6 forged aluminum
Batteries: 1 CR2032 Lithium Battery
Battery Life: 5 years of continuous use at day setting "3" (setting 5 of 8) at 70°F (21°C)
Adjustment Range: 70 MOA Total Travel
Illumination Settings: 8
Dimensions (LxWxH): 2.6 in. x 1.7 in. x 2.0 in. (66mm x 43mm x 51mm) without mount
Waterproof: 100 ft. (30 m)
Join the Free Email Club!
If you appreciate this free information make sure to join the thousands of law abiding bikers that have already joined the free Email Club! You will be notified of new useful motorcycle content and techniques as we put them out. Join the Community now!
Trijicon MRO Red Dot Sight
Summary
One of the best red dot sights I have shot with! Love the wide objective field of view, 2 MOA dot, ambidextrous intensity dial on top, battery lasts 5 years, & the small size. The price point is much better than an Aimpoint. I also love the solid Larue Tactical quick detach system I got with it. A solid combination.