Podcast: Play in new window | Download | Embed
Subscribe: Apple Podcasts | RSS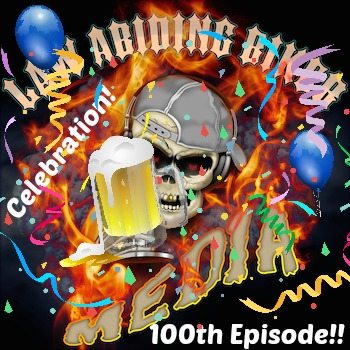 Podcast-We are all super stoked to celebrate our 100th Law Abiding Biker™ Podcast episode with all you Bikaholics out there! We actually have 117 episodes out, because we covered several Sons of Anarachy seasons, but those episodes were not officially numbered.
We were live on Blab and had a blast with community members jumping in and grabbing a Blab seat when we could (call in). We had quite a few of our beloved Patrons join and say hi! We even had numerous giveaways of items from the Official Law Abiding Biker Store, such as Biker Gripper cell phone motorcycle mounts & support shirts! It was our way of thanking everyone for the awesome support everyone has shown us.

Sponsor for this Episode: (Biker Supporters!)
The Law Abiding Biker™ Podcast was nothing more than a vision when I started it back on March 15, 2013 in my daughter's small sound proof (lots of clothes) closet in my home with very minimal equipment. With a ton of work, dedication, and support from the audience we are proud to now be the#1 listened to motorcycle podcast!
With the help of the Law Abiding Biker crew and audience participation, we have built this into a very large & continually growing worldwide biker/motorcycle community. That's right, we are the motorcycling majority and the 99%ers and we now have a very loud voice that many in the motorcycle industry are taking notice of! It's what we call a Biker Revolution!
We have also worked very hard to build our YouTube channel and put out tons of free content. As of this time we have nearly 3 million views and that number is growing rapidly! We were able to move into a larger area and have a much more professional broadcast studio and equipment. Those that know how much we provide free are more than willing to purchase some of our popular for purchase videos & we continue to grow that library of videos too!
We are also proud to have started the Official Law Abiding Biker Store and continue to bring new products to it for the motorcycle community. We want to provide the best possible experience for bikers, unlike so many other online motorcycle stores that only try to take advantage. We are transparent and we want bikers to truly know who is behind the store.
We have become a real team & of course, brothers.  We are working hard behind the scenes here at Law Abiding Biker™ and we trust that will propel us into the future. We depend on our supportive audience and our Patrons to continue to drive us forward.
Listen in as we play many older sound clips from past episodes and poke fun at each other! It is a trip down memory lane for all of us and we had a great time. If you want to get an inside look at the history of Law Abiding Biker, then take a listen.
New Patrons:
Lee Gilbert of Rotherham, Great Britian
James McDaniel of Doral, FL
Mark Frank of Joshua, TX
Joe Garcia of Ediunburg, TX
Wesley Gilmer of Omaha, NE
Don McCready of Dayton, OH


Jay Sarmiento of Pasadena, TX
Richard Pybus of Brewster, MA
Stephen Baber of Sanford, NC
Join the Free Email Club!
If you appreciate this free information make sure to join the thousands of law abiding bikers that have already joined the free Email Club! You will be notified of new useful motorcycle content and techniques as we put them out. Join the Community now!