Podcast: Play in new window | Download | Embed
Subscribe: Apple Podcasts | RSS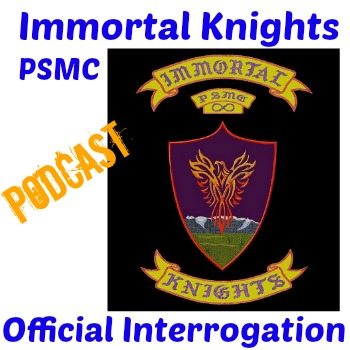 Podcast-Hang on as we have another law abiding biker motorcycle club interview for all you Bikaholics.  In this episode, I have the pleasure of speaking with Randy "Jake" Patton, who is one of the founding members and the President of the Immortal Knights Public Safety Motorcycle Club (IKPSMC). Also along for the interview ride is Steve "Pirate" Bills, who is the IKPSMC Sgt. At Arms.
The Immortal Knights MC is based out of the Salt Lake City, Utah area. We really break it down from how the Immortal Knights MC came into existence, their struggles, their accomplishments, their ideologies, their beliefs, and just what makes them tick.  We dive further into what it may take to become a member of their club and how to get in touch if you are interested.
All law abiding biker clubs should be jumping on this platform and setting up a simple podcast interview, so we can all learn from each other. Clubs that do so get on the exclusive Law Abiding Biker Club Page. And you get a permanent link directly to your very own interview and page. You will always be able to send prospective members or anyone interested in your club directly to your episode! Get a hold of us on our Contact Page Now and schedule your interview.

Sponsor for this Episode: (Biker Supporters!)
New Free Video:
The following is approved by Immortal Knights IKPSMC President Randy "Jake" Patton:
On December 2nd 2011 I made the trek north. At this meeting were Jetwash,
Mickey, Minnie, Bubba and Dory. As I explained why I made the decision to
leave our old club behind, I could see the discontent rise in their eyes.
It was then that I pitched my idea of a club that would be what I had
thought our former club was supposed to be.

Not only did they find the idea of starting a new club intriguing, each
one of them removed their patches and decided to help me form our new
club.

I had the idea of using "IK" in the name of our fledgling club. I wanted
the name "knights" as part of the club. It took us a while, but Mickey
came up with the word "immortal" for the first part of our name. We named
our club the Immortal Knights Public Safety Motorcycle Club.

The Phoenix was chosen as our back patch centerpiece. We chose that as we
saw ourselves rising from the ashes of a crumbling mess and moving onward
from that in a rebirth of something new.

The reasoning behind using the letters I & K are, "I" is the ninth letter
of the alphabet and "K" is the eleventh. Together they represent 911. The
911 has a double meaning in our club. It represents September 11th when
the United States was attacked, and the emergency number that is called
when the public is in need of a first responder.

It was decided that the sign of our clubs founders would be the infinity
symbol. The infinity would represent the original eight members of the
Immortal Knights as well as keeping the memories of the fallen first
responders alive.

When we started this club, we thought about how we wanted to approach our
bylaws. We wrote them with a national flavor but knew that we did not want
to grow too fast. After the experiences from our former life, we saw
firsthand what fast growth can do to an organization. So, we decided to
take it slow. If that means we never grow out of the state of Utah, so be
it. With that being said, we are not afraid of moving out of our home
state, but will do it at our own pace.

Our First Responders Tribute Ride is a cornerstone of the club. Each year
we select a different first responder organization to raise money for. We
beat the pavement and pound on doors working towards the end goal, which
is the ride. We gather as many bikers as we can and ride through the local
mountains. At the end of the ride we have some good food, raffle off some
of the items that have been donated, and we also have an auction for some
of the bigger items. Every penny we raise through these efforts is then
given to the organization we ride for.
Contact Info & Social Media:
New Patrons:
Dan Walters of Felton, CA
Terrence Lewis
Shelton Dawkins
Scott Brummer of East Bernard, TX
Martin Roberts of Tonbridge, Kent – Great Britain
Lou Dolente of Havertown, PA


Linda Burnett of Warner Robins, GA
Colin Caddell of Hollister, CA
Yannick Lamontagne of Gatineau Quebec, Canada
H. K. Dawkins & son of Morgantown, WV
Mark McDermott of Arlington, WA
Rusty Roberts of Gallatin, TN
Join the Free Email Club!
If you appreciate this free information make sure to join the thousands of law abiding bikers that have already joined the free Email Club! You will be notified of new useful motorcycle content and techniques as we put them out. Join the Community now!