Podcast: Play in new window | Download | Embed
Subscribe: Apple Podcasts | RSS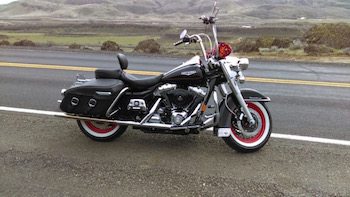 Podcast-In this episode we talk about Rick (Big Daddy) Kane's 2001 Harley-Davidson Road King project. He has some great stories and tells where this bike actually came from. Every used bike has a story and this one is pretty cool, so you will want to listen in for sure. This is a secondary bike for Big Daddy, who has a 2014 Harley Ultra Limited for those long cross country trips. He basically shares the older bike with his father.

Sponsor for this Episode: (Biker Supporters!)
Rick has done quite a few things to this Road King to make it look like a "Cholo" bike with a Mexican low-rider type influence, which is why he calls it "project Chola". He did it all very affordable and used local resources.  For obvious monetary reasons, he couldn't  just go out and buy all new parts for the transformation.
Listen in as we break the entire project down. He learned a lot of things and shares many tips and tricks.
New Patrons:
Ian Becker of Fort Benning, Georgia
Perry Churchill of Vallejo, California
Bob Kibbe of Youngsville, North Carolina
Robert Henze of Walden, NY
Matthew Mackey of Wahiawa, HAWAII
Walt Davis of Carrollton, Georgia


Ken Nola of Orlando, FL
Steven Stratton of Stockton, CA
Roland Yates of New Braunfels