Podcast: Play in new window | Download | Embed
Subscribe: Apple Podcasts | RSS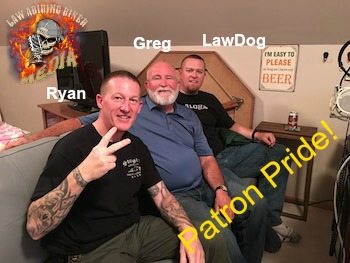 Podcast-Our first ever Patron member of Law Abiding Biker™ Podcast & Media was here in the Yakima, WA area, home of the Law Abiding Biker™ Studios. Patron member Gregory Gaxiola was riding through from California and we were super stoked to hook up with him. Greg came bearing a gift for us, a case of our favorite Backwoods Honey Berry Cigars! How cool is that?
Greg made history when he became the first ever Patron member of LAB Media years ago. He made history again in this episode as the first Patron member to ever tour the Law Abiding Biker™ Media Studios. Yup, Greg got to check everything out and got a full tour. He sat on the LAB sofa and spit this podcast episode with Lawdog and I. We had a great time. We talked about Greg's travels along with other topics as usual. Yup, even got side tracked a few times……….
New Patrons:
Joseph Schott of Tomball, TX
Paul Harnett of Sterling, AL
Josh Boyles of Louisville, KY
Garry Joseph of Beavercreek, OH
Robbie Tidwell of Nixon, AL
David Gutholm of Whiting, New Jersey


Michael Baldonado of Deming, New Mexico
Cascade Climbs of Camas, WA
Preston Sunday of Owasso, Oklahoma
Join the Free Email Club!
If you appreciate this free information make sure to join the thousands of law abiding bikers that have already joined the free Email Club! You will be notified of new useful motorcycle content and techniques as we put them out. Join the Community now!