Podcast: Play in new window | Download | Embed
Subscribe: Apple Podcasts | RSS
Podcast-This is part 2 of a two-part podcast series all about motorcycles and big rigs sharing the roads we all travel. There are inherent dangers when riding a motorcycle near or around a semi-truck, but you can minimize them. We have professional truck driver and Patron Member Russell Roberts of Gallatin, Tennessee in the Law Abiding Biker Studio to weigh in on the issue. We also have professional truck driver and Patron Member Steven Stratton of Stockton, California weighing in remotely via Skype. These guys get to see it from both sides, both as truck drivers and as motorcycle riders, so you really have to listen in to this conversation. They tell us exactly what to be careful of and how to properly ride around semi-trucks.
Semi-truck recap tires can blow out at any time and if that happens and a chunk hits you as a motorcyclist, you'll loose and that can be very serious or fatal. This can be a huge chunk of half of a tire or more! You've all seen the tire carcasses laying in the freeways.  Back off or get past the semi-truck when riding. Plus, if you're hanging out on either side of the truck, you are likely in a large blind spot if the driver decides to move over. These blind spots are called the "No-Zones".
As a highly trained motorcycle rider, I can't tell you how many motorcyclists I see following trucks and cars too closely. The problem with trucks specifically, is that if you're following so close and a semi-truck easily straddles large debris in the road, by the time you see it coming out from the bottom of that truck it's likely too late. If you hit large debris on a motorcycle it can be serious if not fatal.  Why put yourself in that situation? You're not saving any time, but only putting yourself and others in danger. Back off and then pass when it's safe. Time and distance are your friends, especially when riding a motorcycle.
Also, some semi-trucks have very long noses and a there is a large No-Zone directly in front. That is because the driver literally can't see over the nose and down. It is a fair distance out before the driver can actually see what's in front of him/her. A motorcycle will never be seen and it's clear what happens if you're run over by a semi-truck. Yah, you'll be the loser on that one. That is a huge reason to not suddenly move and change lanes right in front of a semi. Not only can't they slow or stop quickly, but they then can't see you when your up there.


To help you understand the No-Zone better, a good rule of thumb is that if you can't see the driver in the side mirrors then they can't see you. You don't want to be in those blind spots on a motorcycle when a truck driver decides to move left or right. So, throttle up a bit and get past the truck or back off and give distance. Don't get caught in those spots at all costs.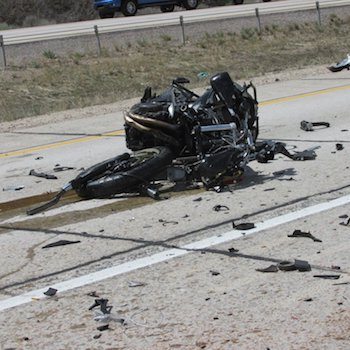 These are just a few of the highlights of our in-depth discussion and you'll really need to listen in to gain more knowledge and understanding. It's worth your time as a motorcycle rider to get all the information as it could save your life.  At the end of the day, pull your head out and use good common sense. You're not invincible.
Remember to respect professional truck drivers. They have a very difficult job to do with all the crazy drivers out there. They have a big responsibility because if they collide with a car or motorcycle it is usually very bad. They take this very seriously, so help them out and don't be part of the problem. Show a mutual respect out there on the roads and they'll do the same for you. careers depend on a good safe driving record. These drivers are always under extreme scrutiny from the federal, local, and state governments. They are heavily regulated and have a ton of rules to follow.
Truck driver's careers depend on a good safe driving record. These drivers are always under extreme scrutiny from federal, local, and state governments. They are a heavily regulated industry and have a ton of rules to follow and that is ever changing.
Wave when you pass a professional truck driver and know that pretty much everything in our country and all commerce is reliant on trucks moving products to their destination. If trucks stopped doing this even for a day, this country would be in crisis and life as we know it would cease.  Plus, a ton of truck driver's are motorcyle riders too!
Roll on 18 wheelers! My hat goes off to all professional truck drivers out there………….
Join the Free Email Club!
If you appreciate this free information make sure to join the thousands of law abiding bikers that have already joined the free Email Club! You will be notified of new useful motorcycle content and techniques as we put them out. Join the Community now!