Podcast: Play in new window | Download | Embed
Subscribe: Apple Podcasts | RSS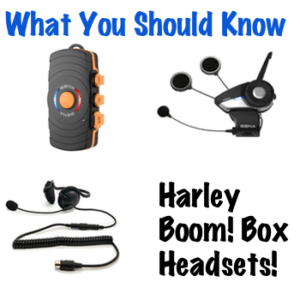 Podcast-In this episode Rick "Big Daddy" Kane and I get down and dirty with what headsets work best with the Harley-Davidson Boom! Box Infotainment System. Yes, we have the best solutions for Bluetooth wireless headsets and the good old wired 7-pin DIN plug in headsets. You'll really need to listen in to get all the information.
Let me be VERY clear……..No, there is absolutely no wireless Bluetooth headset that will pair "directly" with the Harley-Davidson Boom!™ Box Infotainment System. It doesn't matter if you have a 2014 or a newer 2017 Harley with the Boom Box as it is the same exact version of the Infotainment system and no changes in hardware have been made by Harman Kardon, maker of the Boom! Box.
Let me, a biker, show you all the tips, tricks, and hidden menus, so you can get the most out of your system. Less time stressing, more time riding!
Video of Interest:
If you want to use a wireless motorcycle Bluetooth headset with your Harley Boom!™ Box Infotainment System, we do have a solution and workaround.
Wireless:
The Sena Freewire, paired with a compatible Sena Bluetooth Headset, can do everything a wired headset can do! 100% Full Harley Boom!™ Box Infotainment System Integration!!
Give voice commands, turn by turn directions, skip songs, tune stations, internal intercom, CB radio, phone calls and more!
Of course, the Boom! Box has always worked with a wired headset solution and you do get full Boom! Box integration that way. And it is a quite a bit cheaper than the wireless alternative (above).
Wired:
The Boom! Box was never designed to have a wireless Bluetooth headset pair directly with it. It was not made with an HSP, headset profile. It was made with an HFP, hands-free profile, which is why your smartphone will pair with the Boom! Box directly, but not a headset.
In Harley's defense to having no headset profile, Honda did the same thing with their Goldwing line. Goldwing owners are having the same sort of issues and having to do workarounds. The Goldwing has a 5-pin DIN communications port instead of a 7-pin like the Harley.
New Patrons:
Erik Showers of Rock Hill, South Carolina
William Bartsch
William Samuel of Sorrento, Louisiana


Ronald Zakarzewski
Jeff Rowland Hiroshima Japan
Rick Bennett of Dallas, TX
New Free Video:
Join the Free Email Club!
If you appreciate this free information make sure to join the thousands of law abiding bikers that have already joined the free Email Club! You will be notified of new useful motorcycle content and techniques as we put them out. Join the Community now!