Podcast: Play in new window | Download | Embed
Subscribe: Apple Podcasts | RSS
Podcast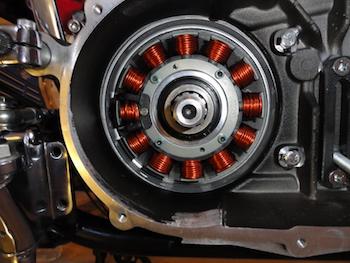 -A special thanks to guest Evan Grist of Fort Collins, Colorado, who is an electrical engineer and affiliated with RMSTATOR, a manufacturer of high-end power sports electrical parts. Via Skype, we were able to bounce our questions off Evan. In this episode, we'll teach you everything you need to know about your Harley-Davidson charging system. We break it down to what bikers actually need to know in an understandable way.
Your Harley-Davidson, or most motorcycles for that matter, use the same type of charging system, often referred to as a permanent magnet alternator. In a car, an alternator is belt driven. In a motorcycle, it is driven by magnets embedded around the flywheel. The flywheel is permanently affixed to the crankshaft, which is spinning with the engine RPM's.
So, the easy way to generate power is with a stator inside that flywheel magnet system. A stator is a metal core and is made up of a bunch of stamped steel plates that are riveted together. It's insulated with some sort of powder coat or plastic to protect the wires. There are windings wrapped around it, which are a particular gauge of solid core copper wire that's insulated. So, you end up with coils of wire wrapped around the stator. Those are attached to a wiring harness, which exits the side case of the motor & heads to the regulator/rectifier. And finally, to the battery to charge it.
With the motor running, you have your crankshaft spinning with the flywheel attached to the end with the magnets spinning outside of the stator. Those magnets spinning past and around the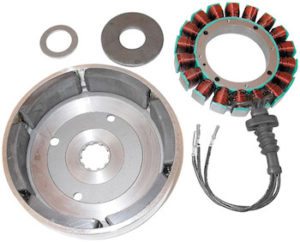 metal core with wire wrapped around it generates electricity. And there you have it!

You may hear this referred to as an alternator at times. If you hear someone call this an alternator on a motorcycle, they are generally referring to the entire package, the flywheel and stator. You do see Harley-Davidson refer to it as an alternator in their manuals.
Regulator/Rectifier:
The alternate current (AC) current created by the stator cannot be sent directly to the battery. It needs to be prepared, limited, and changed to direct current (DC) to correctly charge your battery. The current would destroy your battery if not first sent to the regulator/rectifier.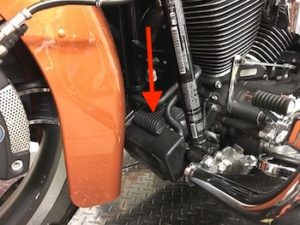 In a motorcycle, the stator flywheel set up creates electricity and sends it to a separate regulator/rectifier. In a car, the rectifier/regulator is built into the alternator.
On a Harley-Davidson, you'll recognize the separate regulator/rectifier as a little black box with cooling fins machined into it and it often times sits up front behind the rear tire attached to the frame.
Regulator/Rectifier=2 Functions:
Rectifier:
The rectifier is responsible for converting the alternate current (AC) current created by the stator to direct current (DC). Basically, it chops off the negative polarity portion of the current that the battery can't use. Then it passes the current to the battery.
Regulator:
The regulator protects the battery voltage and when the battery voltage climbs too high it shuts off current to ground and bleeds it off as heat. That is what the heat fins on the regulator box are for,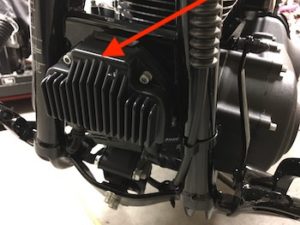 to dissipate the heat. If the regulator did not monitor the voltage to your battery it would destroy it.
Note: Often times a bad regulator can do just that, send too much voltage to the battery.
Battery:
All the current required to run your motorcycle comes from your battery. The stator system charges your battery and replenishes it. You could actually run your motorcycle just fine for some time without a working stator as the battery has reserve current. Of course, the battery would eventually die.

Aftermarket High Output Stators:
If you add too many electrical accessories then you'll come a point that your stator just can't produce enough current to keep the battery charged. There may be subtle hints over time-like your bike starter is sluggish and has trouble cranking the motor over.
There are available aftermarket high output stators. However, it is not wise to install an aftermarket high output stator just because. You should only do this if you actually need it to keep your battery charged.
If your motorcycle is not consuming all that extra current the high output stator is producing then you end up dumping that entire load on your regulator. This is a quick way to ruin your regulator by overheating it.
Can I test the load my electrical accessories are creating?
You can look in your service manual and see what your stator is rated for in amps. Then you can find your electrical accessories (lights, heated grips, heated seats, stereo amps etc) you have added and find out what wattage they are rated for.
A good rule of thumb is you can convert to power by multiplying the stator amps (current) x the battery (voltage). You can use 13 as a good all around battery voltage. That is a good healthy battery staying charged just above 12 volts.
Example only: Let's say the stator is rated for 10 amps x 13-volt battery: 10 x 13=130 watt charging system. So you have a 130-watt charging system in this example.
Now, you can take the wattage of all those electrical accessories and see if you're under or over your 130 watts and how much you have to play with.
Volt Meters:
You can check your system by putting a volt meter on your battery. Or add a volt meter gauge to your motorcycle. I have a Vance & Hines Fuelpak 3 Electronic Fuel Injection (EFI) tuner on my Harley. It syncs to my smartphone wirelessly via Bluetooth and I can monitor real-time data such as voltage. My smartphone is attached to my handlebars with my Biker Gripper Mount.
You can turn all your electrical accessories on and make sure you have your engine at a good regular riding RPM, so your stator is charging at full output.
Note: if your meter is reading anywhere at or above 13 volts you are in great shape. Remember, your Harley is a 12-volt system, so just above that means it can keep up. 13 volts is the point where the battery is not discharging with all your accessories on.
Regulation Point:
Generally speaking, 14.6 volts is a hard set regulation point on most 12 volt systems such as a Harley. Basically, this does not allow the regulator to send voltage to the battery any higher than 14.6 volts.
Harley Charging System Failures:
Stator Failure:
If the stator fails, your battery will no longer be charging when you're riding your motorcycle.
Often times, a short can happen in the windings around the stator. The insulation on the wires can wear down over time or a wire can break. If the copper inside the insulation rubs against the flywheel as an example, you could have the windings short to ground. This is a problem because it all loops back to the regulator through your battery negative connection.
The motor, the frame, and everything metal on the motorcycle are tied to battery negative. Battery negative is tied to the regulator and the regulator is tied to the stator and it loops back. If you have a short to ground then you have no output from the stator.
Multi-Meter & Testing Stator:
Recommended Multi-Meter Tester Here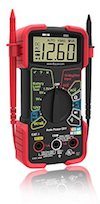 (affiliate link)
Find where your 3 stator wires are. On a Harley, this is up front near where the inner primary connects to the motor case. Right by the seam. The three wires will track straight from there to your regulator/rectifier.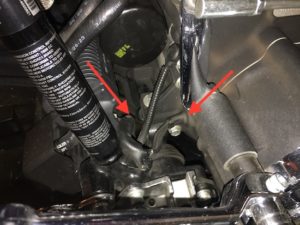 You'll want to measure the resistance between each pair of those wires. The rule of thumb is to look for a low number, around 0.7 Ohms due the size of wire used for this application. You can really measure anywhere under an Ohm. The main thing you want to see is that you are getting the same number between the three wires.
Test 1:
Set your multi-meter to the lowest resistance range it has. Take the three measurements. If they are all the same then your stator windings are in tact and all three coils are in good shape.
Test 2:
Measure from each of those three stator wires to a good frame ground, such as a good clean motor mount bolt, battery negative terminal, or whatever you have that is good and clean and connected to the metal of the motor. Using this test, you should see an "open". You should see an infinite resistance, no connection, no short from any winding to ground.
**If you pass both these tests you can be 99% certain your stator is good.
Regulator/Rectifier Failure:
Here is a technical document Evan Grist wrote on testing a rectifier.
Multi-Meter Regulator Testing:
Assuming your rectifier part of the unit is still working, you'll see current flowing to your battery. You will see your battery voltage increasing because it has current flowing into it.
If you suspect the regulator part of the unit is not working, you can set your multi-meter to the "DC Volts" setting, generally a 20-volt setting. Then connect it to your battery, start your motorcycle, and rev it up. Ideally, if the regulator is working fine you'll see the battery voltage increase from around 12.8-13.2 volts at idle and increase when the motor is revved up to around 14.6 volts.
**If you see results above 15 volts then you likely have a bad regulator. If you were to ride with 15 volts going to the battery then it will be destroyed.
RMSTATOR MOSFET Regulator/Rectifier Upgrade Kits for Harley:
The standard Harley regulator uses an electrical component in it called an SCR, silicon controlled rectifier, which is a little electrical switch. When the regulator sees your voltage climbing to high to the battery it shorts the stator wires to ground, which kills all the output from that leg of the stator.
The regulators that use the silicon controlled switches are just not very efficient. The electrical switches do not shut on and off quickly and they get very hot. That heat over time can cause regulator failure.
A MOSFET, Metal Oxide Semi Conductor Field Effect Transistor, regulator is a very nice upgrade. This transistor runs much cooler, switches much quicker, has simpler circuitry to control it, which in turn means a longer life.
Additionally, your battery will be much happier as it is much more efficient. When the MOSFET switches current on and off to the battery it is much more efficient, so you end up with much more stable battery voltage. You will see much less voltage fluctuation at the battery, which increases battery life.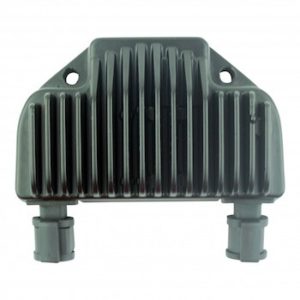 So, you get a longer regulator and battery life! Evan Grist recommends the following regulator/rectifier kit for your Harley-Davidson electrical system.
If you upgrade your stator, you'll definitely want to upgrade your regulator/rectifier as it may be working harder regulating the additional current.
These notes are for reference and you'll want to listen into this episode to get even further details!
New Patrons:
Michael Quade of Mechanicsville, MARYLAND
Christopher Chandler
Paul Wear of Fremont, CA


Ray Headley of Monterey, California
Ted Gibson of Venice, Florida
Wolfgang Runge of Vienna, Austria
Sponsor-Patch Addict
Use Coupon Code:

LAB15

Get

15% Off

Free Shipping on orders over
Join the Free Email Club!
If you appreciate this free information make sure to join the thousands of law abiding bikers that have already joined the free Email Club! You will be notified of new useful motorcycle content and techniques as we put them out. Join the Community now!