Podcast: Play in new window | Download | Embed
Subscribe: Apple Podcasts | RSS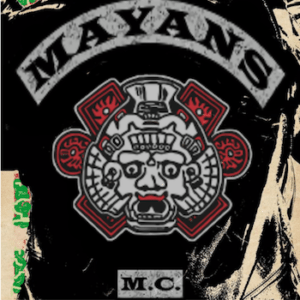 Podcast-In this episode Chewy, Lurch, and I tell you everything we have learned about the new Sons of Anarchy spinoff pilot that has been ordered by FX called the Mayans MC that will start shooting in March 2017.

The Mayans MC show is officially happening, according to FX. This is no longer a rumor, it's an official series on the network's schedule. Sons Of Anarchy aired its finale in 2014 and many of us have longed for a spinoff series. SOA was the highest-rated ongoing drama series in FX history. We hope some of that greatness can spill over into this new show.
Production on the pilot is set to begin in March and will be set in a post Jax Teller world. The show is said to follow EZ Reyes, a Mayan prospect, who will struggle with his desire for vengeance against the local cartel and his need for the women in his life to respect him. The show is set on the Mexi/Cali border. The Mayans, a Latino MC, controlled Northern, CA and all of Nevada during the SOA series.
Emilio Rivera played the role of the President of Mayans Oakland Chapter in the SOA Series. It hasn't been confirmed that he's reprising his role as Marcus Alvarez, the president of Mayans MC, but his social networks have let fans know that he is involved with the show in some fashion. Both he and Sutter have posted numerous photos of themselves, the Mayans, and teases about the show.
It seems Charlie Hunnam, who played Jax Teller, in the original SOA series will not be involved in the Mayan's MC show at all.

The show will be directed by "Sons" creator Kurt Sutter from a script from Sutter and Elgin James. Sutter will serve as executive producer, with James as co-executive producer.  We think between these two individuals we should get a very creative and interesting show.
Mayans MC will most likely take the Tuesday night slot that was previously held by Sons Of Anarchy.
While an official premiere date hasn't been released by the FX network or Kurt Sutter, the show is expected to debut in Fall 2017. Mayans MC will most likely take the Tuesday night slot that was previously held by Sons Of Anarchy.

There is much speculation on the exact story line of the show. Will we see Sons of Anarchy club members appear in the series? Or will they not integrate SOA at all? The show may go completely in its own direction.
You must listen in to this episode to get our predictions, insight, and opinions.
New Free Video:
New Patrons:
Bobby Stokes of Dallas, Georgia
Tony Peterson of Bethlehem, Pennsylvania
Chad Wilcox of Arvada, CO


Dan Gellner of Klamath Falls, Oregon
Ken Froschheiser of Northwest Montana
Stuart Bussman of Mesquite, NV
Sponsor-Patch Addict
Use Coupon Code:

LAB15

Get

15% Off

Free Shipping on orders over $25
Join the Free Email Club!
If you appreciate this free information make sure to join the thousands of law abiding bikers that have already joined the free Email Club! You will be notified of new useful motorcycle content and techniques as we put them out. Join the Community now!