Podcast: Play in new window | Download | Embed
Subscribe: Apple Podcasts | RSS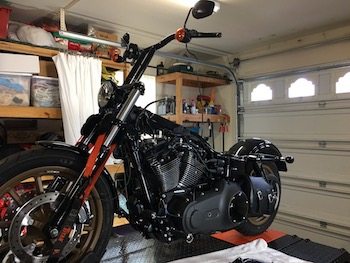 Podcast-Lurch and I spent all day in the Law Abiding Biker™ garage starting another Harley-Davidson handlebar install project on a 2016 Dyna Low Rider S. Fresh out of the garage, we break it down for you and give you some must know information, so listen in. We also had Lawdog "LD" in the studio with an update on our upcoming 2017 Canada motorcycle trip where we will be meeting up with Patron Members of Law Abiding Biker™.
We are installing 12″ Westcoast MX T-bars on the Dyna Low Rider S & internally wiring them! We lifted this baby up with our beloved TITAN SDML-1000D-XLT MOTORCYCLE LIFT TABLE! Lurch and I broke the Harley down and we're filming the entire project for you as usual. We will eventually add this video to our very popular collection of Harley-Davidson handlebar install videos!

There is not much information out right now in catalogs and online on the Dyna Low Rider S, as it was a special production bike. So, we broke it down and measured the stock clutch cable and front upper brake line. We figured out how much over stock length we'd need to go to accommodate these 12″ T-bars.

Armed with proper cable/line lengths, we ordered up what we'd need and had the shipping expedited, so we can put the bike back together and finish the project.
Sponsor-Patch Addict
Use Coupon Code:

LAB15

Get

15% Off

Free Shipping on orders over $25
Sponsor-Ciro 3D
Innovative products for Harley-Davidson
Affordable chrome, lighting, and comfort products
Ciro 3D has a passion for design and innovation
New Patrons:
Kevin Thrash of Diamondhead Mississippi

Terry Williams of Swanton, Ohio

Gary Zillyette of Rock Island, ILLINOIS

Cory Ryan of Everett, WA

Darren Knight of Landsborough, Austrailia

Brian Allen of Pevely, Missouri


Dennis Badger of Bethel Park, Pennsylvania

Vince Cajano of Boca Raton, Florida

John Harmon of Jasper, TX
NEW FREE VIDEO MENTIONED: