Podcast: Play in new window | Download | Embed
Subscribe: Apple Podcasts | RSS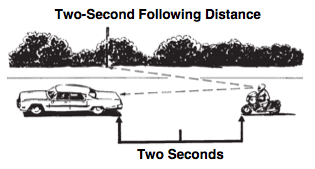 Podcast-In this episode we play a voice message from Cody Case, who is a long-time supporter of Law Abiding Biker™ Media. Cody was involved in a motorcycle collision a week before Street Vibrations and he totaled his Harley. We are super thankful Cody was not seriously injured in the crash.
Cody was following a vehicle pulling a trailer with no lights or turn signals, which stopped in front of him. Cody rear-ended the trailer. Per Cody, the driver had no license or insurance. The other driver was cited and Cody received NO citations from law enforcement.

Cody was insured through Geico motorcycle insurance. Even though Cody received no citations, Geico motorcycle insurance told him the collision was his fault and they doubled his monthly rates.
Listen in as we discuss Cody's incident and weigh in on the laws regarding appropriate following distances for motorcyclists. We also discuss civil infractions and the burden of proof in comparison to civil litigations and insurance company decisions. Each state has their own laws in regards to appropriate following distances. It is hard to paint a broad picture and things will vary on how both Law Enforcement and insurance companies deal with following too close.
Let me share Revised Code of Washington (RCW) 46.61.145 since that is where I reside.
Following too closely.
(1) The driver of a motor vehicle shall not follow another vehicle more closely than is reasonable and prudent, having due regard for the speed of such vehicles and the traffic upon and the condition of the highway.
(2) The driver of any motor truck or motor vehicle drawing another vehicle when traveling upon a roadway outside of a business or residence district and which is following another motor truck or motor vehicle drawing another vehicle shall, whenever conditions permit, leave sufficient space so that an overtaking vehicle may enter and occupy such space without danger, except that this shall not prevent a motor truck or motor vehicle drawing another vehicle from overtaking and passing any like vehicle or other vehicle.
(3) Motor vehicles being driven upon any roadway outside of a business or residence district in a caravan or motorcade whether or not towing other vehicles shall be so operated as to allow sufficient space between each such vehicle or combination of vehicles so as to enable any other vehicle to enter and occupy such space without danger. This provision shall not apply to funeral processions.
Cody's incident demonstrates that insurance companies will find you at fault when rear-ending another vehicle regardless if it had working lights/signals or not. They seem to follow the rule that motorcyclists need to leave enough following distance to stop even if the vehicle they are following stops suddenly, stops for no reason, or does not have lights/signals. It really seems to be the complete responsibility of the following motorcycle rider to make certain they have all the room necessary to stop in any circumstance.
Regardless of insurance, as riders, we must be mindful of our safety first. Insurance company decisions are secondary. If we don't leave a safe following distance to avoid a collision, we may not get a second chance. We all get comfortable and think we can stop faster than we can on our motorcycles. I say, if you are following a car and it seems to be a safe distance, double it and you're probably safe. It is hard for our mind to calculate time and distance real time. We tend to feel overly confident when riding our motorcycles at times.
Sponsor-Patch Addict
Use Coupon Code:

LAB15

Get

15% Off

Free Shipping on orders over $25
Sponsor-Ciro 3D
Innovative products for Harley-Davidson
Affordable chrome, lighting, and comfort products
Ciro 3D has a passion for design and innovation
If you haven't been to a riding course and practiced emergency braking, please do so. It will open your eyes to just how long it can take to stop a motorcycle. Of course, this is dependant on what brake system you have, the weight of your bike, tires, etc. After much practice, you'll realize that you'll gain confidence and improve your motorcycle emergency braking skills, thus stopping faster.  A safe following distance is always the best practice, so you don't have to emergency brake.
The two-second rule
Under normal conditions, the two-second rule is an easy way to make sure you have left enough following distance between your vehicle and the vehicle in front, no matter what speed you're traveling at.
To check if you are traveling two seconds behind the vehicle in front:
watch the vehicle in front of you pass a landmark – such as a sign, tree or power pole – at the side of the road
as it passes the landmark, start counting 'one thousand and one, one thousand and two'
if you pass the landmark before you finish saying those eight words, you are following too closely – slow down, pick another landmark and repeat the words to make sure you have increased your following distance
Note: Consider a 3-second rule to be much safer. 2 seconds is the minimum.
New Patrons:
Dan Currie of West Kelowna, British Columbia

Steven Farmer 

Ryan Watson of Bonney Lake, WA

Mike Pruitt of Jonesboro, Arkansas

Harold Bohn of Pinckney, MICHIGAN

Scott Gillies 


Charles Garland of Tavares, Florida

Chase Brewster of College Station, TX