Podcast: Play in new window | Download | Embed
Subscribe: Apple Podcasts | RSS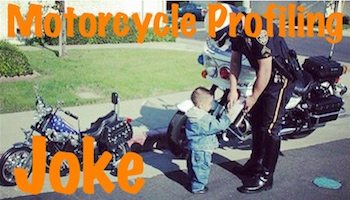 Podcast-You may hear or see less than reputable websites out there pushing their agenda and claiming that motorcycle profiling by law enforcement is some huge out of control issue in the United States. If you are reasonable, do your research, focus on the evidence and facts, and check who is behind pushing such legislation, you'll find the real truth. That is what we want to expose in this episode. You really need to listen in to be fully educated on the matter.
Please understand, that I am totally against any and all "motorcycle profiling" by any law enforcement officer and it is improper. The very few possible cases involving such should be looked into for sure. But, let's not claim it's a big issue when it's not. Bikers/motorcyclists are stopped day after day all over the U.S. and all goes well, so focus on that fact for a moment. You'd see it on your nightly news for certain if it were some large ongoing issue.
Additionally, as I've always stated, not every member of every 1%er outlaw motorcycle gang is committing crimes all day every day. However, it is a fact that there are large factions within these OMG's that have committed and are committing criminal offenses of all sorts. This has been proven over a very long period of time with many OMG members convicted of an array of crimes and serving long jail and prison terms. I have come across many OMG clubs over the years and never personally had a problem with them.
On April 13, 2011, then Washington State Governor Christine Gregoire made effective a new law banning motorcycle profiling, which by the way was already not legal under long-standing laws that were already in place. That is my first point, and you'll see that this changed nothing, which is why it was easy for Gregoire to sign. This made the very few bikers behind the legislation happy, which is why I call it a "feel good" law. It changes nothing. Basically, the law added some minor training for new law enforcement officers, but it gives no specifics on length of that training or who monitors that it is occurring. Nothing changed as this sort of training was already in place. Oh, and the new law states that law enforcement agencies should put it in their policy manuals. Yup, most agencies already had profiling policies in place long before this law.
When you see the pictures of when the law became effective, you'll see Gregoire with outlaw motorcycle gang member and 1%ers. I can't blame her, as she likely had no clue who was actually pushing such a law. She clearly was not educated on these matters and that they were a minority of actual bikers. Sure it sounds great to say "stop motorcycling profiling", but it's not really a problem. You didn't see law abiding bikers pushing the law or standing next to the Governor in photos. Nope, it was pushed mostly by outlaw motorcycle clubs and affiliates, which account for less than 1% of motorcyclists on the roads. The more protection they can get the better I guess was their stance. Or maybe they don't really know that it changed nothing.
Be careful of the propaganda you'll see online making motorcycle profiling seem like this is some out of control issue. It just simply isn't. Be very careful and always do your own research. On these rarely viewed small websites, you'll see a few very old videos of select encounters with officers that they cling to. Do I think officers make mistakes or act badly at times? Heck yeah, that stuff happens. However, statistically, less than 1% of law enforcement officers in the United States are corrupt or "dirty" in some way. No other place in the world can claim anything even close to that. That is a better average than doctors, lawyers, and clergymen. We have the best law enforcement officers in the world and that's a fact.
The propaganda continues with these minority of bikers putting out a survey they did as if it were valid. This is why you always need to look at what's behind a survey before you accept it. They call it the "National Motorcycling Profiling Survey 2015-2016". Sounds official, doesn't it? That's exactly what they want you to believe, so they can continue to push their agenda. Quick research shows that the San Diego Confederation of Clubs (COC) put the invalid survey out.
The COC used Survey Monkey, a free online survey system. They sent the survey to all their acquaintances, outlaw clubs, and affiliates. They only had about 5,000 participants. I have to laugh……..and this is called a "National Survey"? By running an improper and unofficial survey, they got the very results they were looking for. The surveyed a very small minority of persons that already bought into their hype. We don't even know if they surveyed actual bikers? That survey was not sent out to the good hard working law abiding bikers out there. If it had been, then the survey would definitely not have turned out in their favor. Their invalid survey, of course, claims that motorcycle profiling is some huge issue. Unfortunately, they are able to fool some with their efforts.
As you'd suspect, the survey is now closed and the link is dead. Nobody really knows what was asked in the survey, except the small number that participated.
Why would outlaw motorcycle clubs push such legislation and propaganda you ask? Easy, to try and further shield themselves from law enforcement scrutiny. Please understand, criminal profiling is actually legal and widely used by law enforcement today. Notice I didn't say "racial profiling" or "motorcycle profiling" but instead "criminal profiling". There is a huge difference. If you are classified as a 1%er outlaw motorcycle gang (OMG) by the federal government then you're already being criminally profiled. Somehow they think that when they get stopped for a valid traffic violation they can claim "motorcycle profiling", which will not likely be the case.
If you are classified as a 1%er outlaw motorcycle gang (OMG) by the federal government then you're already being legally criminally profiled. Somehow, certain OMG members now think that when they get stopped for a valid traffic violation by law enforcement they can claim "motorcycle profiling", which will not likely be the case in a court of law. You must look at the objective and subjective intent of the officer in a case like this.
You must also understand that law enforcement is not going to reveal every investigative tactic they use. I'm certain there are OMG members that are legally stopped pertinent to a much larger investigation, but the particular biker stopped may have no clue. If you play with fire, you'll eventually get burned.
New States/Laws:
Maryland:
On Saturday, October 1, 2016 Maryland's new anti-motorcycle profiling law went into effect. Maryland is now officially the second state to have an anti-motorcycle profiling law on the books. Washington State passed a similar measure in 2011.
Boise, Idaho says no:
A proposal banning law enforcement agencies from profiling motorcycles has crashed and burned in the Idaho Senate.
Senate members spiked the proposal Wednesday, voting 13-22 after a lengthy debate over the need of bill despite receiving unanimous support from the House several weeks before.
The bill would have prohibited police officers from stopping bikers for riding motorcycles or wearing biker garb. However, some critics said police should have legitimate reasons for stopping all citizens, not just motorcyclists.
Here is what the Washington State law actually states: (Nothings really changed at all)
RCW 43.101.419
Motorcycle profiling.
(1) The criminal justice training commission shall ensure that issues related to motorcycle profiling are addressed in basic law enforcement training and offered to in-service law enforcement officers in conjunction with existing training regarding profiling.
(2) Local law enforcement agencies shall add a statement condemning motorcycle profiling to existing policies regarding profiling.
(3) For the purposes of this section, "motorcycle profiling" means the illegal use of the fact that a person rides a motorcycle or wears motorcycle-related paraphernalia as a factor in deciding to stop and question, take enforcement action, arrest, or search a person or vehicle with or without a legal basis under the United States Constitution or Washington state Constitution.
Sponsor-Patch Addict
Use Coupon Code:

LAB15

Get

15% Off

Free Shipping on orders over $25
Sponsor-Ciro 3D
Innovative products for Harley-Davidson
Affordable chrome, lighting, and comfort products
Ciro 3D has a passion for design and innovation
New Patrons:
Larry Daniels Sr. of Mount Vernon, OH
Zachary Brooks of Forney, TX
Eddie Davis of Columbus, GA
Paul Kelly of Glenolden, PENNSYLVANIA
Zachary Norton of Richland, WA
Terry McDonough of Medford, Oregon


Jeff DuRocher of Independence, Missouri
Ron Peteck
Meik Ziemer-Popp of Hamburg, Germany
Van Porter of Chicago, IL
Join the Free Email Club!
If you appreciate this free information make sure to join the thousands of law abiding bikers that have already joined the free Email Club! You will be notified of new useful motorcycle content and techniques as we put them out. Join the Community now!